Birth Announcements and Christening Invitations

Give your baby a grand debut! A beautiful range of exclusive designs to announce the birth of your new baby. Stunning unique birth announcements, created to order and fully personalised...
Amazing value, generous A5 size cards

FREE printing inside

Photo and Non-Photo Designs available

Introduce your new baby to friends & family with a totally unique card created to order and then dispatched within 5 working days (after artwork approval).
Fully Personalised: Designs can be adapted as Birth Announcements, Christening Invitations or even 1st Birthday Invitations.
Price: packs from £45 including UK delivery

Turnaround Time: Proofs created within 3-5 working days, dispatched within 5 working days after proof approval

Delivery Time: 2-4 working days

Perfect for Birth Announcement, Christening or Naming Ceremony Invitation, Birthday invitation

Whether you're looking for a simple birth announcement or a totally unique Christening Invitation, I have a gorgeous range of affordable designs I'm sure you'll love. Contemporary and classic designs, professionally printed and featuring your own message and optional photo. Simply tell me the wording you'd like and I will create a wonderful unique announcement card just for you.
How it works: The designs show suggested wording, but feel free to alter and adapt it to your own requirements. You can also change it completely so that the design can be used for a Christening Invitation or even a lovely 1st Birthday invitation! Simply choose your favourite design and quantity needed, and click the "Buy Now" button. After making your purchase you will receive an automatic email from me acknowledging you order. Please reply to this email telling me the wording you would like on your cards. If you need to send me a photo for your design, the instructions on how to do this will be in the email you receive. (Your photo doesn't need to be a professional photo, just a favourite snap that you love, but it does need to be a minimum size. Click here for advice on the best type of photo to send.) I will email a proof of your announcement for you to check within 3-5 working days. As soon as I receive approval from you, your cards will be printed and dispatched within 5-7 working days.
About the cards: The cards are printed onto specialist quality 350gsm silk finish greeting card stock, and the finished size is A5 (approx 15x21cm). They come complete with plain white envelopes included in the price. They are perfect if you want to double up and create a combined birth announcement and Christening invitation, as the price includes free printing of your own message on the inside of the card. Printed in black and white, there is a choice of typefaces available. (Please note the inside printing is text only.)
Pack of 25 with envelopes: £45 inc P&P (£1.80 each)

Pack of 50 with envelopes: £50 in P&P (£1.10 each)

Click on the images below to browse the designs available.
(If you would like to commision a custom design do please contact me to discuss your ideas and I will be happy to give you a quote.)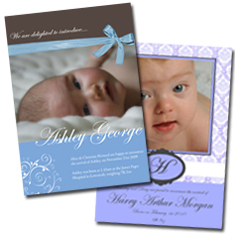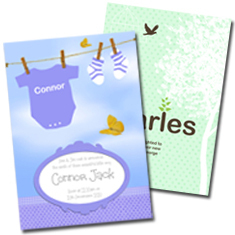 Non-Photo Designs for Boys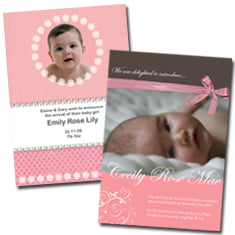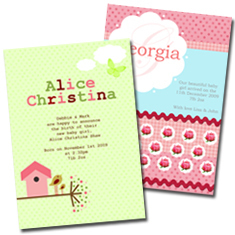 Non-Photo Designs for Girls