Great British Canvas Prints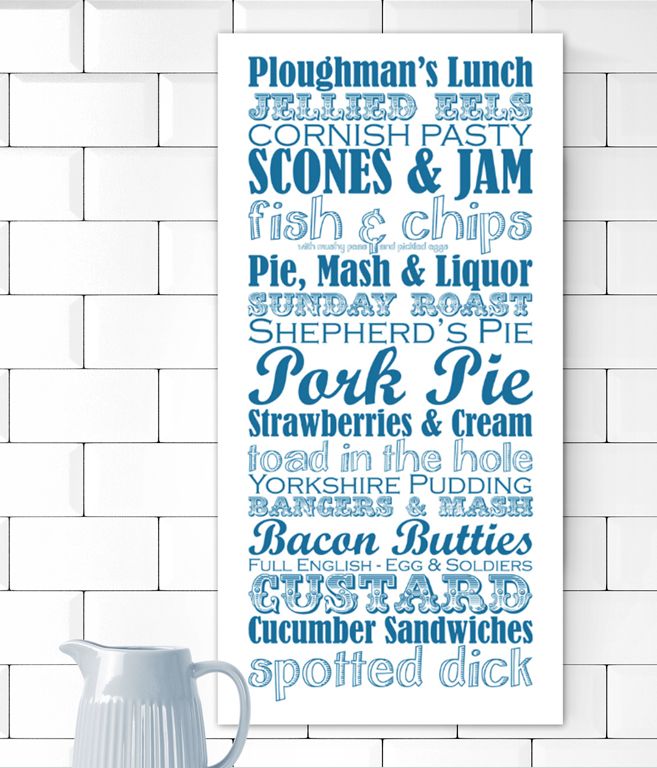 Celebrate the Best of British with one of these nostalgic canvas prints - designed in Britain, made in Britain, and about as British Bulldog as you can get!
From traditional British food, to the TV we all loved, these reminiscent canvas prints celebrate our retro past and are guaranteed to make you feel just a tad nostalgic.
12"x24" (18mm deep frame)

Choice of colours

Professionally printed to order and stretched across a wooden frame

Order the designs as shown, or create your own unique list
Price: £32.95 including UK delivery (not available for overseas delivery)

Turnaround Time: Created within 5 working days

Delivery Time: 2-5 working days, sent via courier

Perfect Gift for Parents, Grandparents, Teenagers, Him, Her, Husband, Wife, Friend

Perfect Gift for Birthday, Christmas, General Occasion, House Warming, Anniversary, Wedding, Valentine's Day, Mother's Day, Father's Day

Ahh, those were the days - a day at the seaside, coming home with sand lodged in all the wrong places, rounding it all off with fish & chips on the way home, and finally "The Generation Game" on telly before bedtime.... Come back in time, remember Britain from days gone by, and get a bit misty eyed! A great, reminiscent gift idea for lots of different occasions, these canvas prints are bound to trigger some wonderful memories.
Delivery: Your canvas will be created and dispatched via courier within 5 working days. Please allow approx 2-5 working days for delivery. If you want your canvas to feature your own list, or if you have made alterations to the existing wording, you will be sent a proof of the artwork before it goes to print and so delivery make take a little longer than quoted. Please note this item is not available for overseas delivery.
About the Wording: If you'd like to amend the wording on any of the designs - or even come up with your own completely new list (you'll need a list of approximately 20-25 items) - that's completely fine. I'm more than happy to make one or two minor changes to the existing lists free of charge, but if you want to make more changes or create a completely new list this will incur a small additional charge for the artwork involved. If you want this option, please be sure to select it when making your purchase. Use the space provided on the shopping cart form to enter the wording you would like, and I will email a proof of the artwork to you within 2-3 working days for approval.
Available in any colour: All the designs shown are available in a choice of colours. If you would like your canvas in an alternative colour that isn't already offered, do feel free to contact me and I'll be very happy to try to match your chosen shade.

Care for your Canvas: As with any picture, the canvas can fade if placed in a very bright room or near a window. Position your canvas in a place where it won't be in strong light and you can enjoy it for years to come!

Great British Children's TV Shows
(sample shown in Red)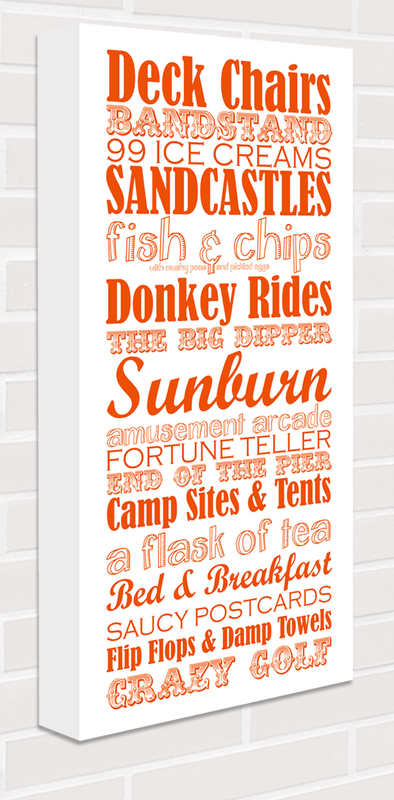 Great British Holidays

(sample shown in Orange)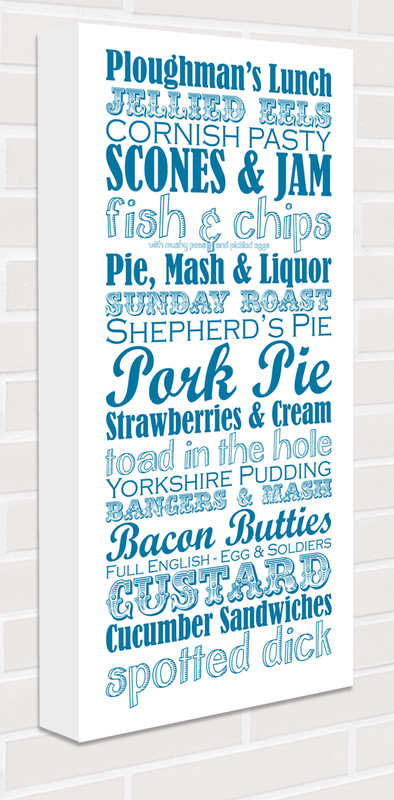 Great British Dishes

(sample shown in Blue)


Great British Police TV Shows

(sample shown in Black)

OK, so not all these great cop shows are British exactly, but you can't deny they played a huge part in the British TV schedules during the 1970's and on!


Great British TV Game Shows
(sample shown in Pink)

Perfect for a wedding or anniversary gift! Classic TV quiz and game shows, from the 1950's through to the present day.


Great British Punk Bands

(sample shown in Green)

Not into punk? Why not create your own list - it could be anything: Rock 'n Roll, Ska, Country, New Romantic - you name it!