Our Wedding Day Personalised Prints

What was happening in the world on the day you were married? These attractive prints are carefully researched to provide a glimpse into the world on your wedding day. A perfect present for an anniversary, these also make a truly special gift for Valentine's Day... Request any date from 1900 onwards, and it will be thoroughly explored to give you a fascinating and attractive memento to display. Each order is individually researched using various sources to provide a fascinating snapshot of your chosen date. Available in 6 colours.
"Sarah stayed in touch with me constantly while making it for me to make sure it was extra personal to me. Delivery was really quick. You can tell Sarah values each and everyone of her customers and really puts a lot of thought and love into each order..."

"..we are so pleased with it... It is perfect."
Price: £27.95 including 1st class recorded delivery

Turnaround Time: Artwork proof emailed to you within 3 working days

Delivery Time: 1-2 working days

Perfect Gift for Husband & Wife, Bride & Groom, Grandad & Granny, Couples

Perfect Gift for Wedding, Anniversary, Valentine's Day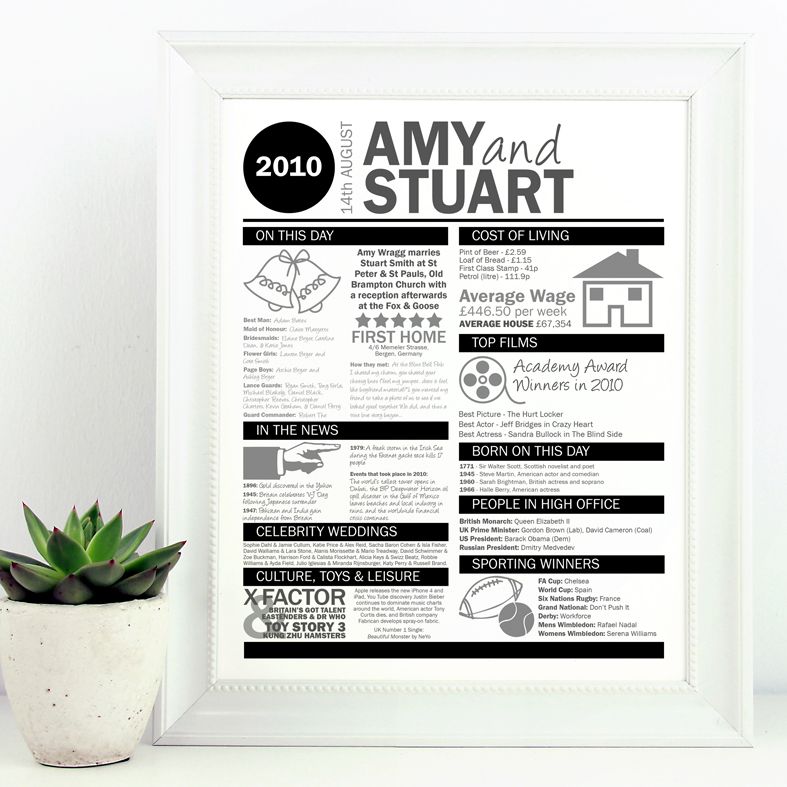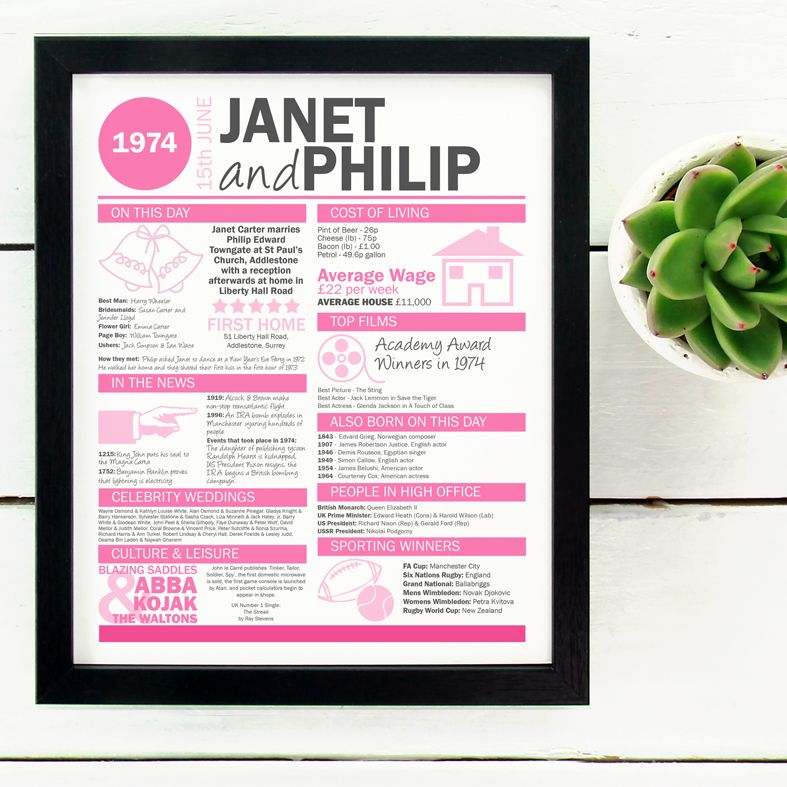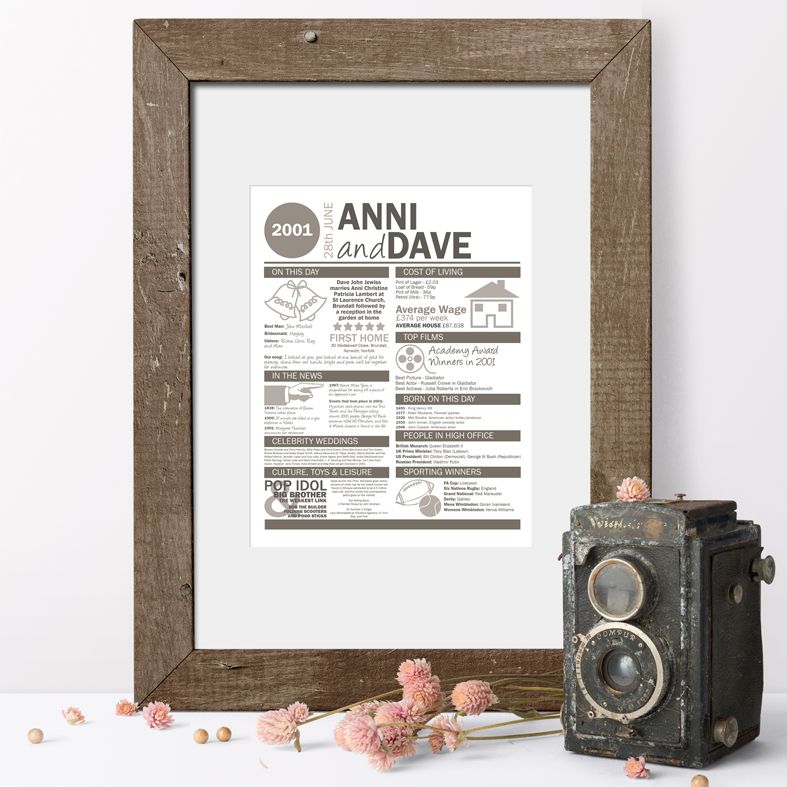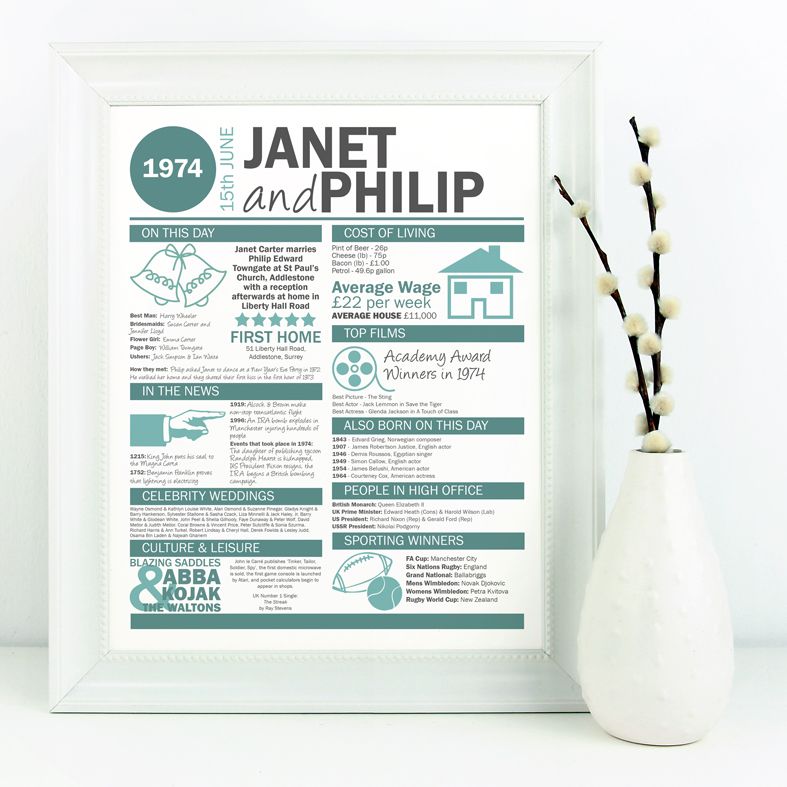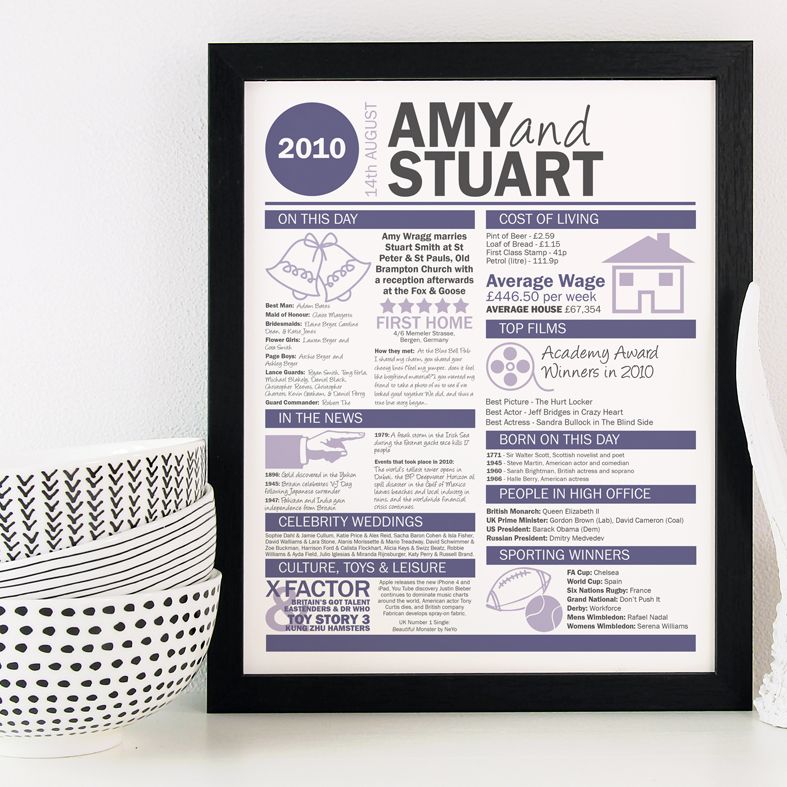 About the Print: Your artwork will be created to order and printed onto very high quality gloss finish paper stock. It will be presented with a backing board and smartly presented sealed in a protective clear sleeve. Your print will be posted in a strong hard backed envelope and will require a signature on delivery. The overall size of the print is 10"x8" and will fit into any standard 10"x8" picture frame. Please note that the information featured on your print will be relevant to the UK.
Each print will have slight variations depending on the date you request and the information available, but as a guide yours is likely to include: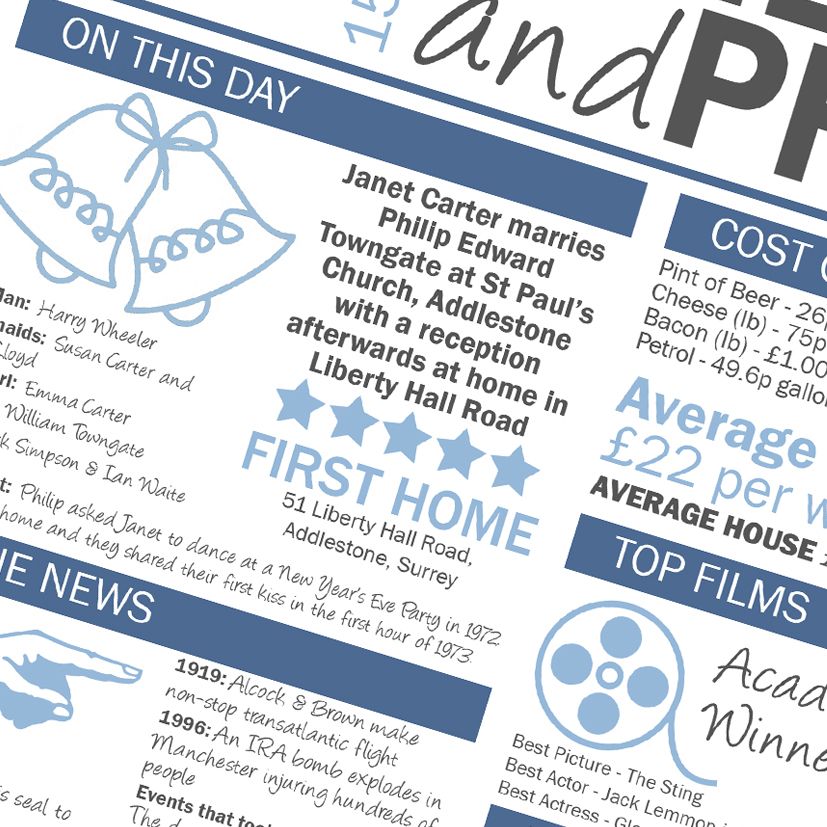 Details of your wedding day: who, where, when, etc - as well as interesting information such as your first home, the names of your best man and bridesmaids, etc, and even the story of how you met!

Culture and Media: which were the top books, gadgets, tv, toys and more?

News: newsworthy events that took place on the date you were married

Celebrity Weddings: which celebrities share your wedding date?

World Leaders: who were the main players in high office?

Born on this day: which celebrities and notable people were born on your wedding date?

Sport: who were the winners in the year you were married?

Cost of living: how much did key items cost on the day you wed, and what was the average wage?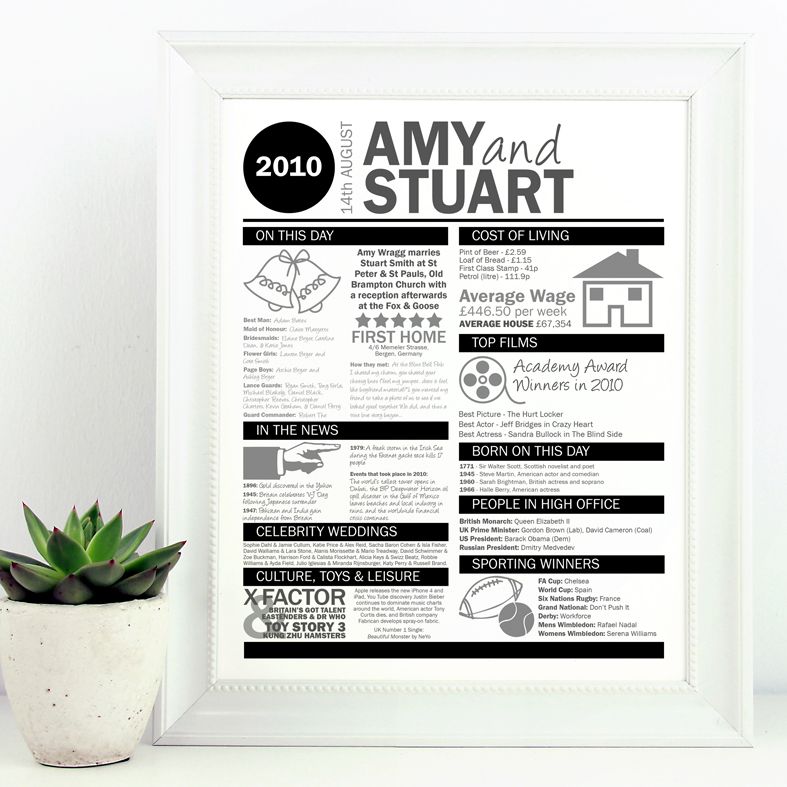 Ready to order? Please complete the form below, and after clicking on the 'submit' button you will be directed to the payment page where you will be able to add the item to the shopping cart and complete your order.
Remember to double check all the details and spelling on your form before submitting!
After placing your order I will email a proof of the artwork to you within 3 working days.
Once you have approved the artwork your print will be completed and dispatched.