What was happening in the world on the day you were married? These fascinating and intriguing wedding day prints are carefully researched to provide a glimpse into the world on your wedding day. A perfect present for an anniversary, these also make a truly special gift for Valentine's Day and are absolutely perfect for a first wedding anniversary when paper is the traditional gift. Request any date from 1900 onwards, and it will be thoroughly explored and researched to give you a thought provoking and attractive memento to display, and a fascinating snapshot of your wedding day. Available in 6 colours.
"Sarah stayed in touch with me constantly while making it for me to make sure it was extra personal to me. Delivery was really quick. You can tell Sarah values each and everyone of her customers and really puts a lot of thought and love into each order."
"..we are so pleased with it... It is perfect."
Each personalised wedding print will have slight variations depending on the date you request and the information available, but as a guide yours is likely to include the following facts and details:
Details of your Wedding Day
Who, where, when, etc - as well as interesting information such as your first home, the names of your best man and bridesmaids, etc, and even the story of how you met!
World Leaders, Celebrity Weddings and Births
Who were the main players in high office? Which celebrites tied the knot the same day as you, which celebrities and notable people were born on your wedding date?
Who were the winners in the year you were married?
Which were the top books, gadgets, tv, toys and more?
Key newsworthy events that took place throughout history on the date you were married.
How much did key items cost on the day you wed, and what was the average wage?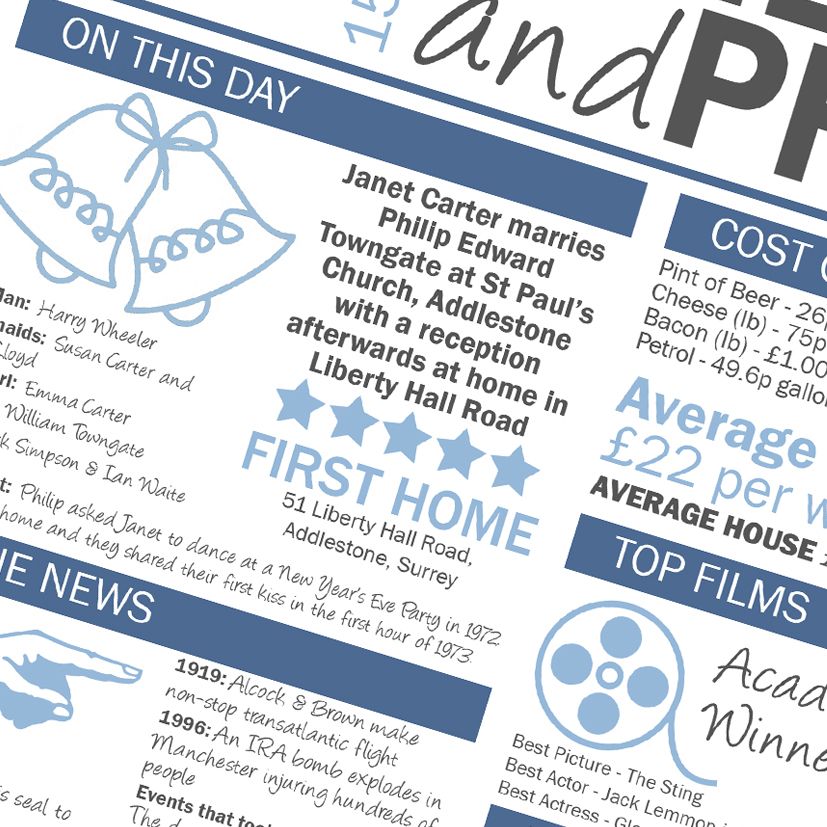 Each order is individually researched using various sources to provide a fascinating snapshot of your wedding day. After placing your order I will email a proof of the artwork to you within 3 working days. Once you have approved the artwork your print will be completed and dispatched. (Please note that the information featured on your print will be relevant to the UK.)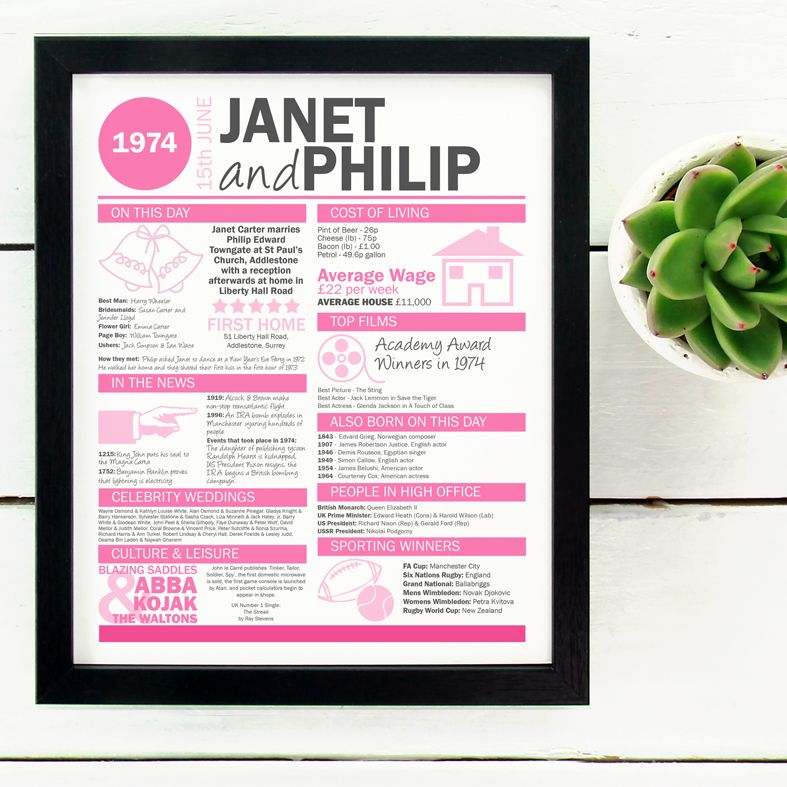 Your print can be created for any wedding date from 1900 onwards, and will be thoroughly explored to give you a fascinating and attractive memento to display. A great gift idea for a milestone anniversary, these prints are a fascinating keepsake. You'll love taking a trip down memory lane and laughing at the cost of buying a new home or a loaf of bread in the year they were married!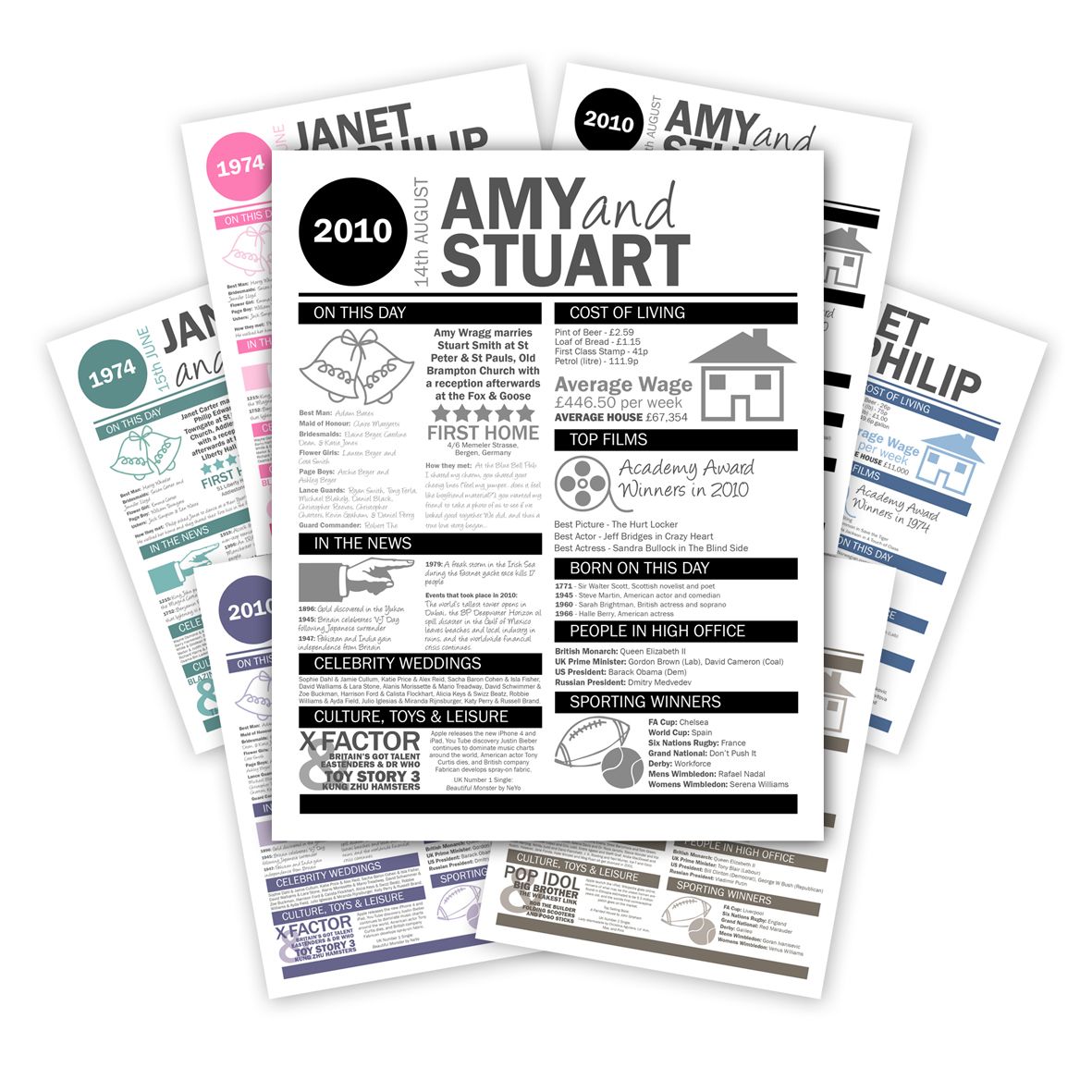 The print is available in 6 colours:
Pink
Blue
Taupe
Teal Green
Black
Violet
The print is £27.95, including UK delivery. It fits any standard 10x8" frame, and is packaged smartly in a clear presentation sleeve.
Price: £27.95, including UK delivery
Turnaround: Artwork proof emailed to you within 3 working days (working days are Mon-Fri, excluding bank holidays).
Perfect Gift for: Husband, Wife, Mum, Dad, Bride & Groom
Ideal for: Wedding, Anniversary, Valentine's Day
Your artwork will be created to order and printed onto very high quality gloss finish paper stock. It will be presented with a backing board and smartly packaged sealed in a protective crystal clear presentation sleeve. The overall size of the print is 10"x8" and will fit into any standard 10"x8" picture frame, or a frame with a mount that has a 10x8" apeture.
UK postage is free - please allow 2-3 working days for delivery. Faster UK delivery upgrades are available - see the postage options on the order form above for details. Your print will be posted flat in a strong hard backed envelope and will require a signature on delivery. (Click here for overseas delivery information and prices)