Personalised, handmade Baby Board Books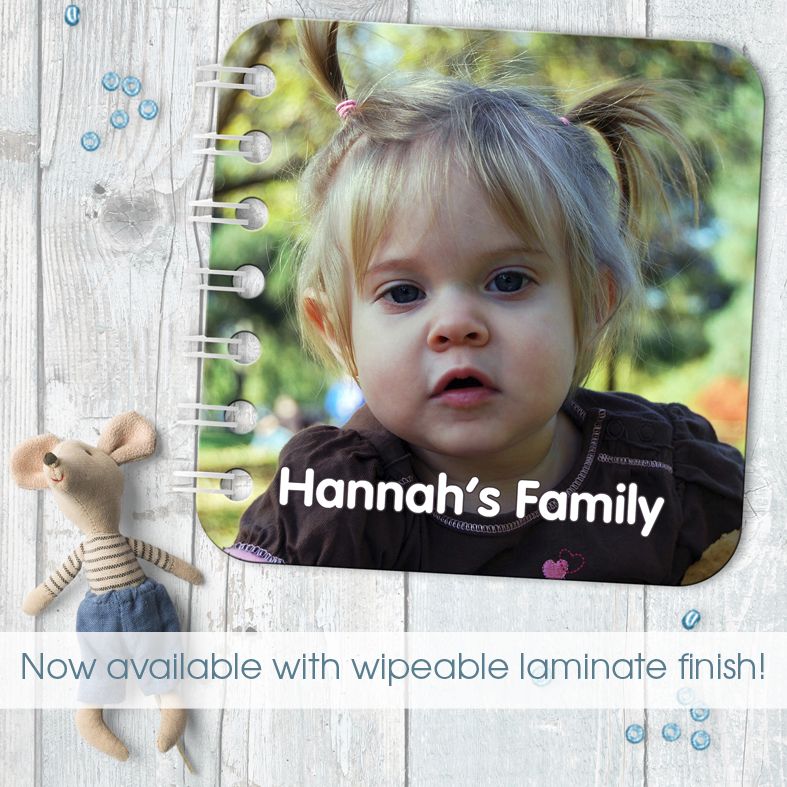 A lovely gift for babies and toddlers, these keepsake baby board books are made to order using your own photos and wording, creating something totally unique and bespoke. A lovely present for a christening, birthday or Christmas, young children will be delighted to see themselves featured in their very own book!

Each book is handmade to order and totally unique to you. A perfect way to introduce your baby or toddler to their family members or mark important milestones such as first steps or first words. The books make an ideal keepsake for a special occasion such as a birthday or christening, and wonderful presents for new mummies & daddies, aunties & uncles, and grandparents. A special book to read with your little one and share their special moments together.
Lots of designs to choose from

Handmade to order, featuring your own photos and wording throughout
Price: from £25 including UK delivery

Turnaround Time: Dispatched within 5 working days

Delivery Time: 2-5 working days (upgrade to 1-2 working days also available)

Perfect Gift for Baby, Child, Mummy, Daddy, Grandparents, Aunties, Uncles, Godparents

Perfect Gift for Birthday, Christmas, Mother's Day, Father's Day, New Baby, Christening

"Just to let you know I received the book today. It is absolutely beautiful and I can't wait to give it to my grandson... I will definitely be back to buy another one."

"I would like to thank you very much for your impeccable service and for the lovely book. I'm thrilled."

"I just wanted to say thank you for the lovely photo book! My little boy absolutely loves it and it's so well made. Thanks again - I'll be recommending you to all my friends."

"Book has just arrived and it's perfect. It's going to my little grandson for his first birthday... He will LOVE the book ( so will my daughter) many thanks."

"I love the fact that it's small and neat, and perfect to play with and read."

"..absolutely lovely, I am delighted with it and can't wait to give it on Father's Day!"

"Fantastic product... the end result was amazing and we love it so much. Super friendly & professional service."

Delivery: Your book will be created and dispatched within 5 working days. Standard delivery is via courier, please allow approximately 3-5 working days for delivery. You can also upgrade to 1st class recorded delivery if you need your book to arrive sooner - delivery takes 1-2 working days. Your book will be wrapped in pretty pale blue tissue paper and will be securely packaged and delivered in a strong box.

About the books: There are ten designs to choose from (see below) and each has 12 pages including the outside front and back covers. Each book features your chosen photos and text, creating a book which is totally unique to your child. The books are made from chunky board with a glossy finish to really bring your photos to life. The books measure 10x10cm, perfect for little hands to hold, and all four corners of the books are trimmed by hand to give rounded edges. The books are handmade and aren't indestructible - it's advised that you don't let your child chew on the book as, like most board books, this will damage it. If your book will be used by younger readers (especially those that dribble!) it's advised you opt for the laminated version for more durability. The outside back cover of the books feature your own message (except the 'Photo' design), which you can personalise with your own wording to make it a truly special memento.
You can now order your book in a stronger laminated version - perfect if you want a more robust book that will withstand dribble from younger readers! The laminated finish means that the book will be splash-proof and can be wiped clean. The pages have a brighter, shinier look with a smooth glossy finish. For just an extra £3.50 you can upgrade any of the book designs to the new stronger laminated finish.
How to Order: You will need 11 suitable photos for your book (except the 'Photo' design which requires 12 photos) in jpeg format. Simply click on your chosen theme below and you will see further images of the inside pages of the books, as well as full details of how to save and send your photos and wording.
Photography advice: Click here to read this great article about how to take the best photos of your loved ones.
There are ten book themes to choose from, simply click on the images to view full details for each design and images of the inside pages.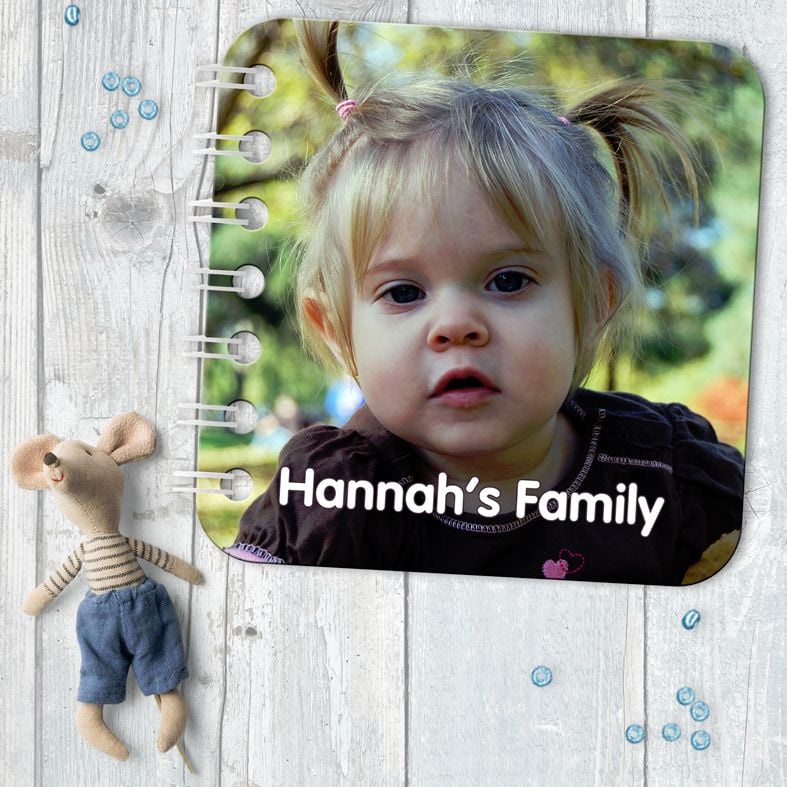 'Photo' Design
This design is the perfect showcase for your photos - no design other than your photos shown to maximum effect, and text below each image with different brightly coloured backgrounds. A striking design with a clear and simple layout. This design features photos on all 12 pages, so you will need to supply 12 photos.