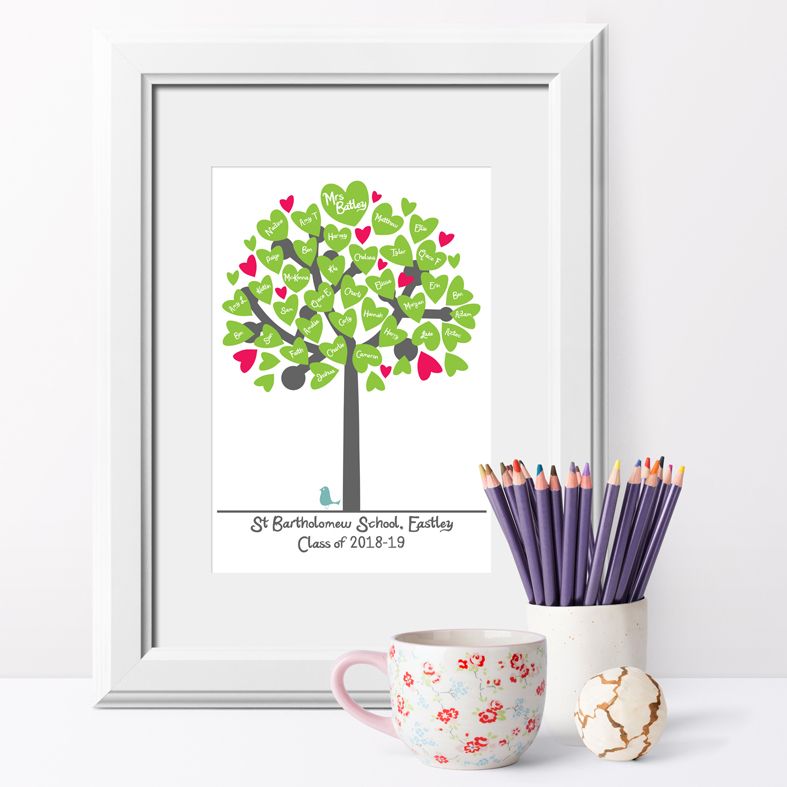 A wonderful school keepsake, this bespoke Classroom Tree print featuring your teacher and class mates will make a unique memento and a wonderful thank you present for a teacher or teaching assistant. Celebrate your school days or the end of that special school year, and have this lovely custom made print as a keepsake. These stunning custom made prints are created uniquely and laid out especially for your own group of classmates. Inspired by my range of personalised Family Tree prints, these are incredibly popular with both parents and teachers, and are available in a range of colours.
Great idea! If you're looking for a low cost gift idea for a teacher, why not get together with other parents in the class and give this lovely print as a joint gift? Or why not get several copies made for all the children to keep as mementoes of their time at school - perfect for school leavers or younger pupils moving up to middle school or high school.
"Just to say class tree was a massive hit, teacher was absolutely delighted."
"I have received the classroom tree for my son's teacher as a thank you for the end of term. It is absolutely beautiful! Sarah has stayed in contact with me since I first enquired, super friendly lady. Cannot recommend highly enough. Super product and lovely service."
"Class tree arrived today and can honestly say I'm delighted with it - its lovely and exactly what I wanted. Thanks again for doing a great job and for being so helpful."