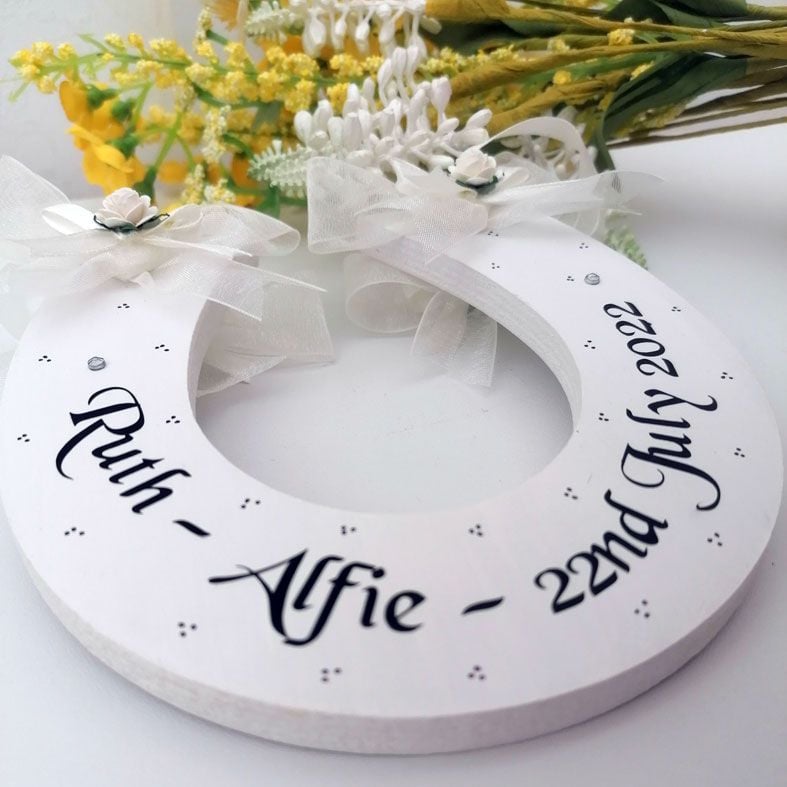 A traditional gift for the bride on her wedding day, this charming handmade horseshoe is a lovely keepsake to wish good luck to the happy couple. Handpainted in white chalk finish paint, the wooden horseshoe is strung with satin ribbon and beautifully hand finished with little organza bows and rosebuds, and pretty little hand drawn dots. You can also choose whether you'd like two tiny diamantes added to the front too.
The front of the horseshoe is personalised with the first names of the wedding couple, and the wedding date. You can also add a short personal message on the reverse if you wish, at no extra cost - perhaps adding a good luck message, or the name of the wedding venue, or the name of the person who gifted the horseshoe, for example (space available for the reverse is 40 characters, including spaces between words).
A lovely, classic heirloom for the couple to keep and bring them luck in their married life!
Created to order by a small, independent British craft business, I'm delighted to be able to offer their items direct to you too.
Did you know? Many details in weddings are packed with symbolism and tradition, and the practice of giving a lucky wedding horseshoes dates back thousands of years. It is an ancient symbol of good luck for the newly married couple, wishing them good fortune (and fertility!) in their life together. Usually given to the bride at the end of the ceremony, just as or before the wedding photos are taken, a horseshoe is often given by a bridesmaid, pageboy or flower girl, and also by the mother of the bride or groom. The bride holds the horseshoe with her flowers, and it will be a pretty feature in the wedding photos.
Price: £22.95, including UK delivery
Turnaround: Created to order and dispatched within 5 working days (working days are Mon-Fri, excluding bank holidays).
Perfect Gift for: Bride & Groom
Ideal for: Wedding Gift
Handpainted MDF in white chalk finish paint. Horseshoe measures 12x12.5cm, excluding ribbon and attachments.
UK postage is free - please allow 3 working days for delivery. Sorry, postage is not available for overseas orders - UK delivery only.