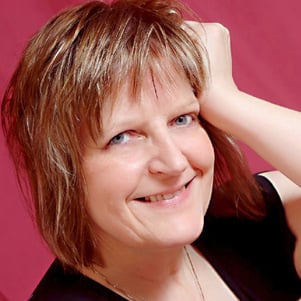 "Don't believe what they say about never working with kids and animals....believe me, they are great to work with!"
Blue is a professional family photographer, based in Fife, Scotland. She has a huge experience of photographing family portraits, and works extensively with local nurseries, playgroups and schools. As well as running her independent studio, Photography by Blue, she is also a mum and grandmother - so has a lot of experience of working with children and getting great family shots. Whether you're planning to order one of the gifts here on the site, or just want to get a great shot for your family photo album, Blue shares some great advice on getting the best out of your family snapshots...
"There's no right or wrong way to use your camera, so long as you get the desired results. So grab your camera and lets have a wee chat about all things photography!
You are probably planning to ask Sarah to transform your photo into one of her magical Portait designs for your little darling(s), so let me try to help you get a brilliant photo for Sarah for work with - and avoid the mistakes we, as Mums & Dads, just don't see because we see only our beautiful child(ren)!
Decide where you are going to take your photograph. If you have a particular PhotoFairytales fantasy portrait theme you would like Sarah to recreate for you, have a good look at the example on the website first. Does it require your little one to pose, or is it an easy shot to take? Don't try and expect your 18month old to 'strike a pose' that is just too difficult for him/her. Remember, it may not be completely necessary for your subject to look straight at the camera or be in the exact same pose. A candid shot, caught when they were unaware of you can sometimes be much more effective.

Check your background and foreground - make sure there is nothing obscuring your subject. If you need to send Sarah a head-to-toe photo, be very careful not to crop anything important from your photo - make sure your subject fills your view finder and doesn't go over the edge. Check those feet, the top of that head, and where those hands are!

If you use a flash then be aware that the closer the subject is to the background, the bigger the risk of shadows. It's important for Sarah to be able to create a natural look to your finished image, where the subject looks as though they are actually in the shot and not just 'placed' there - and heavy shadows can cause problems. Just move the subject further away from the background. Ideally, take your photo outside in nature light.


Don't be afraid to use your flash outdoors - it can often add to the overall look of the image. If you're using a digital camera try taking a few shots with the flash and some without - you can always delete the ones you don't think will do.


A reflector can transform an image as this 'bounces' the light back into the subjects face, therefore avoiding harsh shadows around the eyes and nose. A simple sheet of white card held underneath, out of camera shot, will suffice.


It sounds obvious, but don't try to photograph young children when they're tired, bored or not in the right mood - you'll both end up cross and with a photo that doesn't look right. Choose your moment - when they are relaxed and happy, and feeling responsive to you. Give yourself plenty of time too, don't make yourself feel pressured because you're trying to take a photo when you should be getting the dinner on!


It's tempting to tell your subject to smile and say cheese, but this can sometimes give a fake smile effect. Little ones can often be distracted however - try asking them an interesting question that makes them stop and think, ask them to imagine something lovely, pull a silly face or make a funny noise - and be ready with your shutter finger for that perfect reaction!


A good trick to avoid that slightly glazed expression when you take someone's photo, is to ask them to look down for a count of three before raising their head and looking into the camera. It is just enough for them to alter their point of focus and avoid those staring eyes!


When photographing children particularly, try getting down to their level rather than photographing down onto them which tends to make heads look overly large and their legs too short! Kneel down, sit on the floor or a chair - try to keep the camera at their eye level. (This applies to photographing pets too!)


Hold it steady! Whilst problems such as 'red-eye' created by a camera flash can be corrected, blurry photos that are out of focus just can't be improved. Avoid smudgy photos by resting your camera on a solid object, or keeping your elbows tucked in. If you're sitting on the floor to take your photo, try sitting so that you can lean your elbows on your knees to stop the camera wobbling, or grab a chair or stool to lean on. Most digital cameras have a 'half-press shutter' which means you press the shutter button half way down, giving the camera time to adjust focus. When your camera has found its focus, click your button all the way.
Happy Snapping!"