Fantasy Portrait Gallery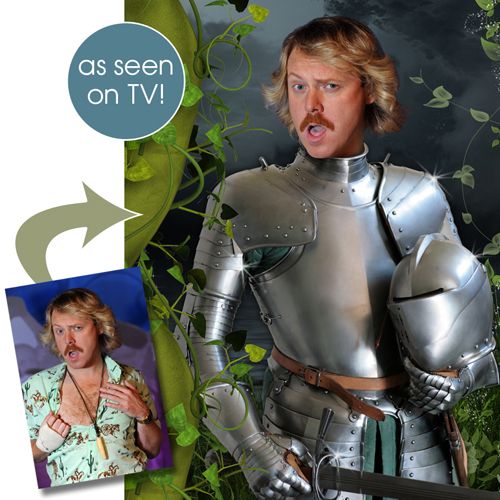 Your ordinary photo transformed into an amazing fantasy portrait... Working from your own ordinary snapshot, I will create a stunning bespoke portrait just for you.
Over 100 themes to choose from

Bespoke artwork from only £24.50

Prints & Greeting Cards available

Using digital enhancement, and complete attention to detail throughout every step, I will design an image for you that is totally unique.
You can order just artwork alone, or you can order prints, canvases, or greeting cards!
"The portraits are fantastic, I am delighted with them. I think they are going to make incredible gifts. Thank you so much... Although the photos look good on your website it is when you see them with your own family in them that they really blow you away, they are incredible."
Izzi, Inverness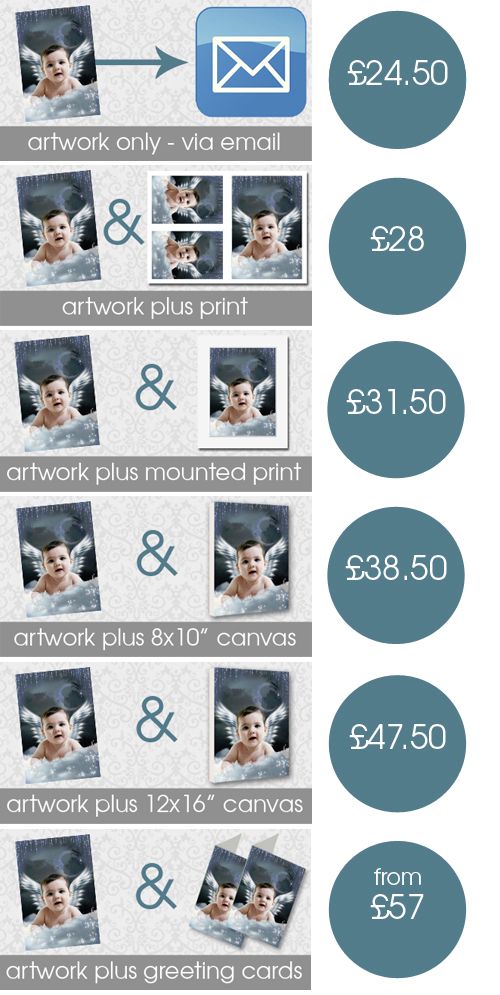 How much does it cost? The following prices are for one person per portrait. If you require more than one person to be in your design, there is an additional charge of £5 per extra person.
(If you'd like me to create a completely new custom design for you this will incur additional artwork charges. As a rough guide, this will mean the cost of your order will increase by approximately £15-£20, although it does depend on what you request. I'm more than happy to give you a proper quote before you order so that you can decide if you wish to proceed.)
Prices shown include 1st class postage within the UK. (Click here for further details and dimensions of canvases and prints.)
Artwork only (supplied via email):
Artwork and one unframed print (various sizes available):
£28 (additional prints are £4.25 each)

Artwork and one mounted 10x8" print:
£31.50 (additional prints are £4.75 each)

Artwork and 10"x8" canvas print:
Artwork and 12"x16" canvas print:
A5 Greeting Cards including Artwork - (click here for further details of card dimensions, etc):
Pack of 25 Cards - £57

Pack of 50 Cards - £65

You'll receive your finished artwork in high resolution jpeg format via email within 3-5 working days of receipt of your completed order. If you've ordered a print, canvas or greeting cards, this will be dispatched once you've approved the proof of your artwork.
How is my image created? If necessary, I start by correcting any minor defects in your original photo such as red-eye removal, enhancing and improving the image as much as possible. I then digitally crop away all the background from your photo. This is done slowly and carefully by hand to give a natural look to the image. Your photo is then introduced into your chosen theme. Each image is made up of a large number of digital layers - sometimes up to around 50 or 60 elements make up each design. I create each portrait individually, ensuring that the composition and lighting is carefully and sympathetically adjusted to suit both your photo and the position of the person in relation to their surroundings. For this reason, your finished portrait may be slightly different to the samples shown on the website. I take a lot of time and care to create an image that looks natural and which is totally bespoke for you.
How do I order? Please ensure you read the information about the type of photo you need to send by clicking here. For all portraits I'll need a photo which is at least 200kb - any smaller and the quality will not be enough to give a good finished result. When you've chosen an image and have a photo ready, simply make a note of the title of the theme you would like and click on the "Order Now" button beside each image to go through to the order form. Please state the name of the theme you would like on the order form. You don't need to pay at the point of ordering as you will receive an invoice via email within 1 working day. Work will begin on your order once I have received your payment and original photograph.
Photography advice: Click here to read this great article about how to take the best photos of your loved ones.
Browsing the Portrait Designs: I've arranged the gallery into the different collections shown below. Please take a good look at the various categories - there is something for everyone in every gallery. If you don't see anything quite right, would like to request slight tweaks to an existing design, or if you have something specific in mind, do contact me and I'll be more than happy to discuss your requirements.
Fantasy Photo Portrait Collections: