Your ordinary photo transformed into an amazing fantasy fairy tale portrait! Working from your own photograph, I will create a stunning bespoke portrait just for you. With complete attention to detail throughout every step, I will design an image for you that is totally unique. Each bespoke image is created and designed especially for you, working with your own photo to create a stunning and original piece of art. Choose from dozens of designs for a truly original personalised portrait and a fabulous, unique keepsake gift. Every portrait is built from layer upon layer of digital art, carefully created individually and uniquely so that your final image is something truly magical.
"The portraits are fantastic, I am delighted... I think they are going to make incredible gifts. Thank you so much. Although the photos look good on your website it is when you see them with your own family in them that they really blow you away, they are incredible."
Artwork £25.95, additional prints from £5.50 inc UK delivery
Artwork proof supplied within 3-5 working days
Artwork sent via email, print delivery 2-4 working days
Artwork images approx 277x190mm, and 3MB-6MB file size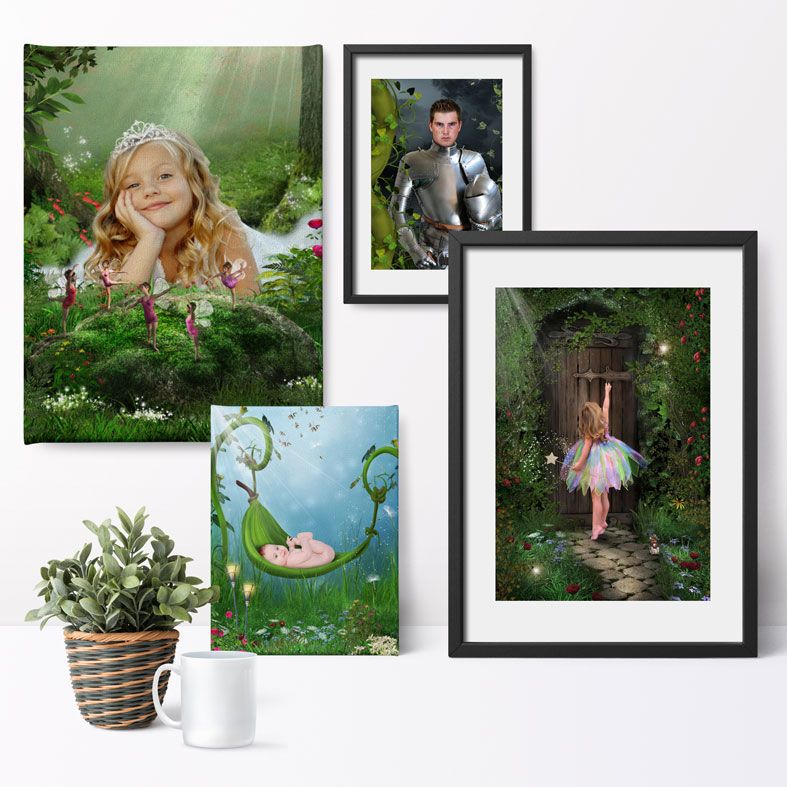 Dozens of beautiful designs to choose from...
Enter the magical world of PhotoFairytales - children love the wonder and mystery of enchanted fairy tales, so capture their imagination with one of these stunning fantasy portraits, created from your own photo. These digitally created images are a truly original personalised gift idea, each one unique.
Fairies and elves, pirates and princesses, fantasy and fairytale: experience the magic of having your existing photo completely transformed into a magical, make believe fairy fantasy. There are dozens of beautiful fantasy and fairy themes to choose from, with themes that both little boys and girls will adore. There are even some that work pefectly for adults too!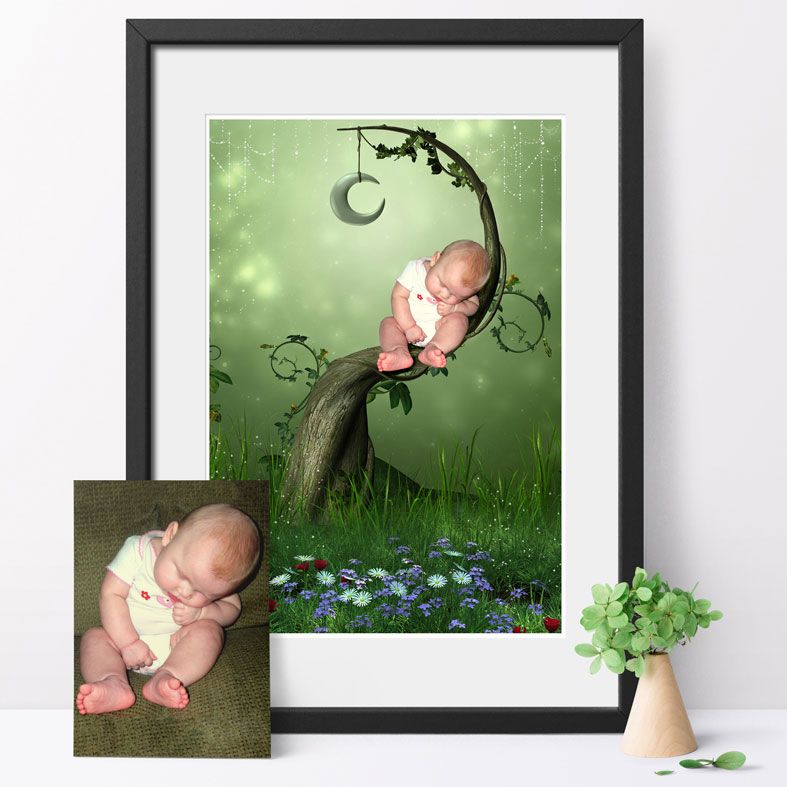 Created from your own ordinary photo...
I'll correct minor imperfections such as red eye, and then digitally crop away the background from your photo. This is done slowly and carefully by hand to give a natural look to the image. Your photo is then introduced into your chosen theme. Each Portrait is made up of a large number of digital layers - usually over 50 elements make up each design. I create each Portrait individually, ensuring that the composition and lighting is carefully, sympathetically adjusted to suit both your photo and the position of the person in relation to their surroundings. For this reason, your finished Portrait may be slightly different to the samples shown on the website. I take a lot of time and care to create an image that looks natural and which is totally bespoke.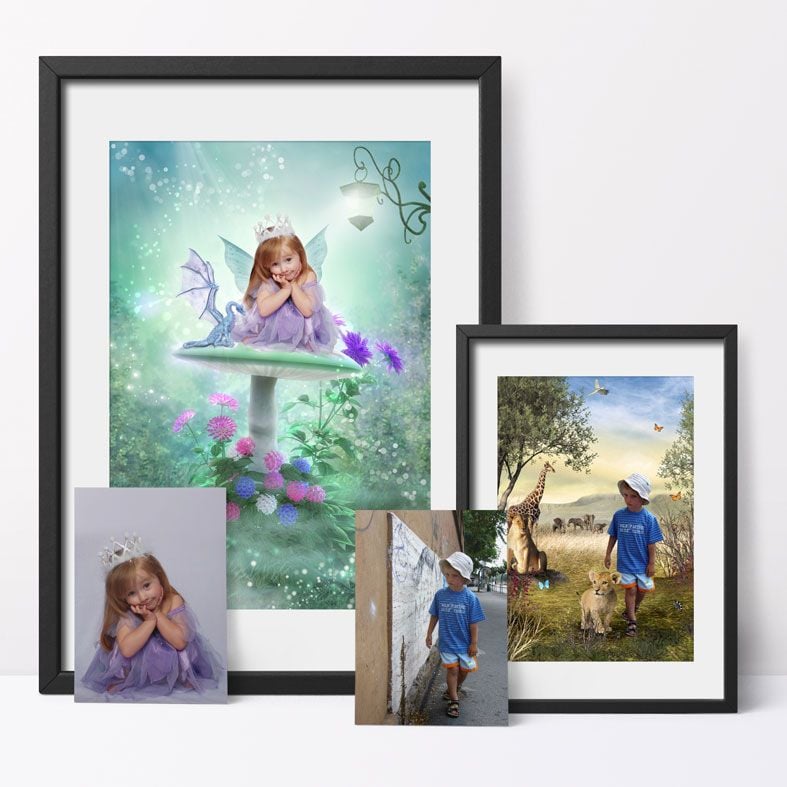 Upgrade your order and have your image printed...
Your Portrait is created as a high resolution image file and sent to you via email as a jpeg file ready for you to download and save. You can also upgrade your order and have your Portrait printed, ready to display on the wall and enjoy. Choose from traditional prints on high quality gloss paper stock, packaged with a backing board and smooth white bevel cut mount, and presented sealed in a protective clear sleeve. The prints are unframed, but will fit into standard frame sizes. Or have your Portrait printed as a superb quality handstretched canvas, printed using quality fade resistant pigment, 280gsm canvas, and solid wood frames.
See the Information Panel below for full price details and print sizes.
Price: from £25.95 - for further price details please see the next Information panel
Turnaround: Artwork proof supplied within 3-5 working days (working days are Mon-Fri, excluding bank holidays).
Perfect Gift for: Baby, Child, Mum, Dad, New Parents
Ideal for: New Baby, Birthday, Christmas, Nursery Decor, Christening Gift
Artwork only (supplied via email) £25.95 for one person. Additional people within the same image are an extra £5 per person.
Optional add-on prints as follows:
Mounted Art Prints available in 2 sizes: 8x10" size £5.50, A3 size £11
Canvas Prints available in 2 sizes: 8x10" £16.50, 12x16" £25.50
Prints are sent only once you have approved your artwork proof.
Delivery of your artwork file is free, sent to you as a download via email. UK postage of mounted and canvas prints is free - please allow 2-4 working days for delivery.