Choosing the Best Photo
Some guidelines on selecting the right photo for your order...
Your photo doesn't need to be a professional shot - I can work with ordinary family snapshots provided it is clear, not blurry, and preferably with nothing cropped from the body or head, or obscuring the face if possible. I can correct any minor problems such as red-eye, etc. I am always more than happy to take a look at your photo before you order - and you are welcome to send me a selection of photos to choose from too.
For Best Results: Ideally the photo should be taken with at least a 3MP digital camera or phone, or be a photo scanned at 300dpi (dots per inch). Depending on your settings, photos taken with a mobile phone often don't provide big enough images to be workable - sometimes this can be due to the method of sending them as cameras often try to compress the photo size to make it easier to send, or it could be how the camera is set up on your phone. If you do want to take photos using your phone, please check your settings first to ensure the camera is taking them at a decent resolution. You may need to download your photo to a PC/laptop and then email it to me from there. Whichever method of sending you use, please don't reduce the size your photo: the bigger it is the better! Photos downloaded from Facebook are rarely large enough unfortunately as they are compressed by the website, so try to get hold of the original photo if you can. Please save your photo as a JPEG. The file size should be at least 200kbs - but 1MB or bigger is even better. If you are unsure how to check the size of your file, all you need to do is simply hover your mouse over the image you would like to use (don't click on it), and a little box will pop up showing the file size: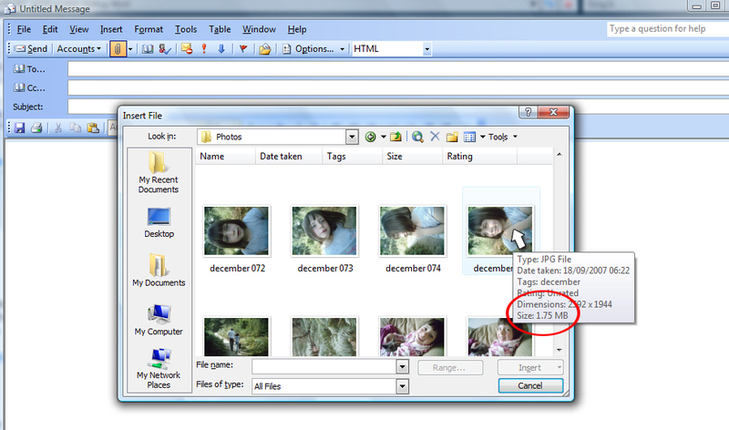 Not sure if your photo is the right quality? I can make improvements to enhance the original photo, but if it was blurry or is a tiny file to start with, I probably can't improve it much further I'm afraid. If you are at all unsure, please feel free to email me your image at: [email protected] asking me to take a look in the first instance. I am more than happy to take an initial look before you order and let you know if the photo will work. Send the photo as a full size attachment.
Need some photography tips and advice? Click here to read this great article from a professional photographer about how to take the best family photos of your loved ones.
Which photo should you send? You can either send an existing favourite snapshot, or if you have a particular Fantasy Portrait theme in mind you could try getting your subject to pose in a particular way (eg, seated, pointing, standing, etc), or even dress in a certain outfit (eg, fairy, pirate, etc). The finished image will be influenced by the pose, clothing, and style of the photo you send.
How to send your photo... Photos should be sent to me at [email protected] and should be placed as an attachment to the email (simply click on the paperclip symbol in the top menu - highlighted in orange on the image above). Apple devices may have a different method - if you are unsure the Apple support pages may be able to help you, or you could upload the image[s] using www.dropbox.com (which is free to use) and then simply email me the link to your folder. For most orders, after making your payment you will receive an automatic email acknowledging your order within a few moments - this email will also give you further instructions for sending your photo to me (if you can't spot this email it may have landed in your junk/spam inbox). If you have any problems please feel free to get in touch and I'll be happy to help you.
I have a standard photograph (ie, not on a computer), but no access to a scanner... Many photo developing shops, internet cafes and quick print shops can scan for you and may even email it to me on your behalf too.
If you have any queries at all about the ordering process, please feel free to contact me. You can also take a look at the Frequently Asked Questions page which should be able to help.