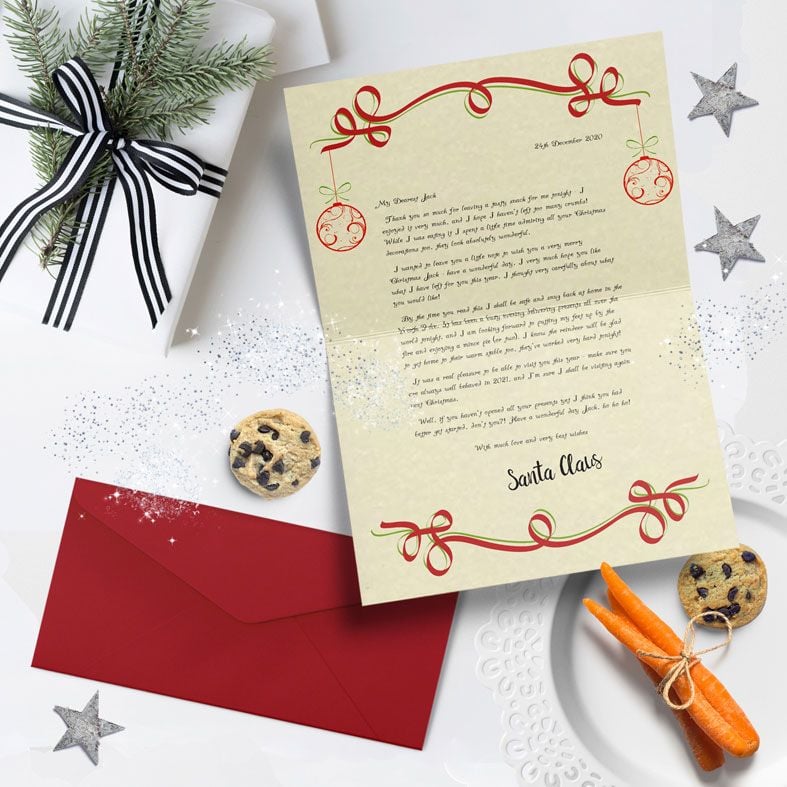 Imagine their surprise and delight when your little boy or girl wakes up on Christmas morning to find a special letter from Santa waiting for them!
These beautiful quality personalised Christmas letters are created to order on lovely parchment-style paper. Santa Claus handsigns each and every one himself, and seals it in a jolly red envelope complete with a pinch of North Pole sprinkles. He handwrites your child's name on the envelope and finishes each one with a North Pole sticker too.
A little bit of extra magic and excitement this Christmas...
Genuine: each one hand signed by the real Santa
Only £6.99, including FREE UK delivery (£9.75 for overseas delivery)
Every letter sold raises funds for a UK charity
Perfect for boys and girls - and adults!
Rest assured: Santa takes his special Christmas Day Letters very seriously - every child that receives one is truly special. And yes, it is signed by the real Father Christmas! If you've ordered a Santa Letter or Telegram from PhotoFairytales, either this year or in the past, please be assured it's the real Santa signing every one, and all signatures will be the same!
Snacks at the ready... Santa Claus works very hard on Christmas Eve, travelling the world and delivering presents. So it's very important that your child leaves him a little snack to eat before they go to bed on Christmas Eve. It doesn't matter what you leave: a mince pie, a tasty biscuit, whatever you think he will enjoy! After he has eaten his snack and left his present, Santa will leave this lovely Letter behind to say thank you and wish your child a magical Christmas Day. An exciting start to Christmas morning!
Each Letter is created on lovely quality parchment style paper and hand signed by Santa himself. It comes in a jolly bright red envelope, complete with a pinch of genuine sparkles from Santa's Workshop. Your child's name is handwritten on the envelope by Santa too, and it is finished with a North Pole sticker.
Supporting UK Charities every year - I'm donating 50p for every 2021 Santa Letter or Telegram sold to Adoption UK.
Why not add more excitement to Christmas morning, and add a set of Santa Footprint Stencils to your order for an extra £1.99? The full size pair of stencils are individually cut to order from strong card (colours will vary). Exclusive to PhotoFairytales and brilliant value, these are only available when ordered with one of these special Christmas Day Santa Letters. Just use baking soda or a little flour over the stencils, and easily hoover it up in the morning (with a bit of tutting about the mess Santa left!).
Important bit, please read first!:
Discount codes: Discount codes cannot be applied to these Letters as they are already such great value - instead I am making a donation to Adoption UK for every Santa Telegram and Letter sold. Please do not enter a discount code on the order form as this will cause a delay with your order.
Delivery: See below for dispatch times, last order dates and delivery details. The Christmas Day Letters will be sent in a plain covering envelope. If you would like the order sent to an alternative address, please also supply the name of the addressee who can keep the package safe until Christmas Eve (ie, not the child). All Letters will start to be mailed out from the first week of December (with the exception of overseas orders which may be dispatched earlier in time for pre-Christmas Day delivery). Orders placed during December will be prepared and posted within 3 working days. The Letters will be sent via standard 1st class post or international standard delivery. You can keep in touch with all the latest Santa Letter & Telegram news by following the dedicated page on Facebook - just click here
Placing your order: Please double check all the details you supply on the form before submitting it, as it may not be possible to rectify mistakes once your order has been placed! If you wish to order more than one Letter, you will need to fill out the form for each recipient - simply click on the "Continue Shopping" button when you reach the shopping cart to return to this page and complete the form again.
Price: from £6.99 inc UK delivery, from £9.75 inc overseas delivery
Turnaround: Created and dispatched within 3 working days (working days are Mon-Fri, excluding bank holidays).
Perfect Gift for: Baby or Child
UK orders - December 14th
Overseas orders - December 8th (unless stated below - please also see the next panel marked 'Delivery' for further details)
Carribean - November 23rd
Australia, Greece, Italy, Portugal, New Zealand, Africa, Asia, Far & Middle East - November 29th
Cyprus, Malta, Sweden, Eastern Europe, Turkey, Canada, Czech Republic, Finland, Poland, USA - December 5th
UK postage is free, via standard 1st class post. If you're ordering more than one telegram or letter for delivery to the same address, they will be placed in a plain covering envelope to prevent them being separated in the post and ensure they arrive together. OVERSEAS ORDERS - PLEASE READ: Please select UK shipping when you checkout to prevent being charged for postage twice. Overseas orders sent via International Standard delivery.