Amazing value - Individually created and hand finished
Superb quality - Donation to UK charity

A wonderful surprise gift for boys and girls in the lead up to Christmas: individually prepared and hand signed superb quality Letters and Telegrams from the real Father Christmas! Have a little bit of extra magic and excitement delivered to someone special this Christmas...
From only £7.50, including 1st class delivery
Every Letter or Telegram sold raises money for a UK charity
For many years Father Christmas has chosen PhotoFairytales as the place to find one of his genuine, official letters or telegrams. Don't be fooled by other poor quality Santa letters: these are the real thing! Santa writes each one uniquely and individually for every child, and he hand signs every one too. Imagine their face when a special big red handwritten envelope is delivered this December from Father Christmas!
"...my son was absolutely thrilled and couldn't believe the detail - best thing I've ever done!"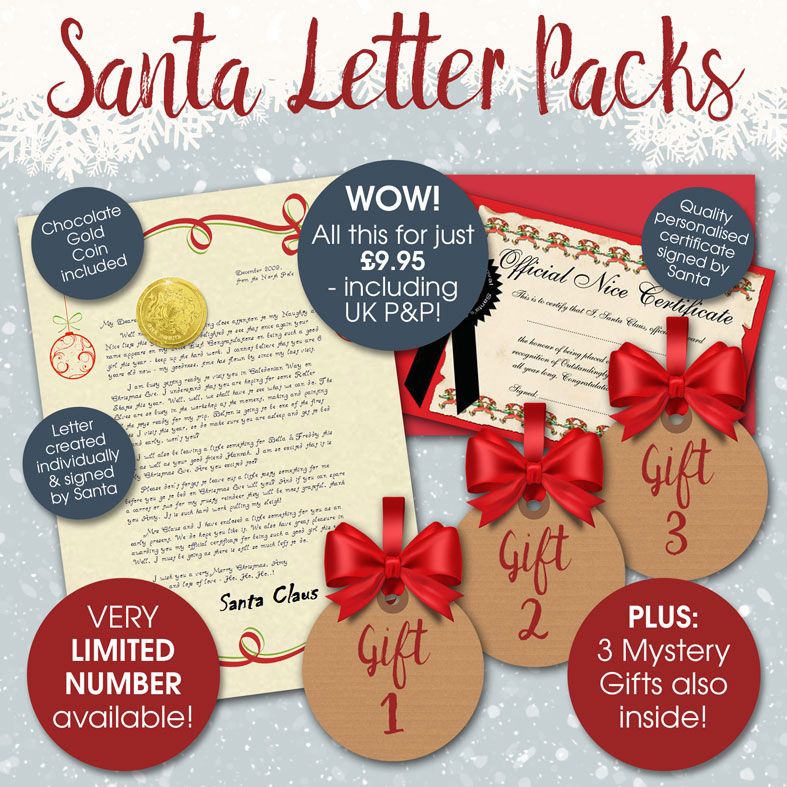 Santa Letter Gift Packs: £9.95 (Limited Edition)
These ever-popular Santa Letter gift packs are AMAZING value and sell out every year, so reserve yours now! Each one comes with an individually prepared letter signed by Santa, a lovely personalised certificate, a chocolate coin, and 3 mystery gifts too (suitable for ages 3+). Packed with detail and truly magical. Santa only sends a very limited number of these special Letters every year, so don't leave it too late! (Sorry, available for UK orders only)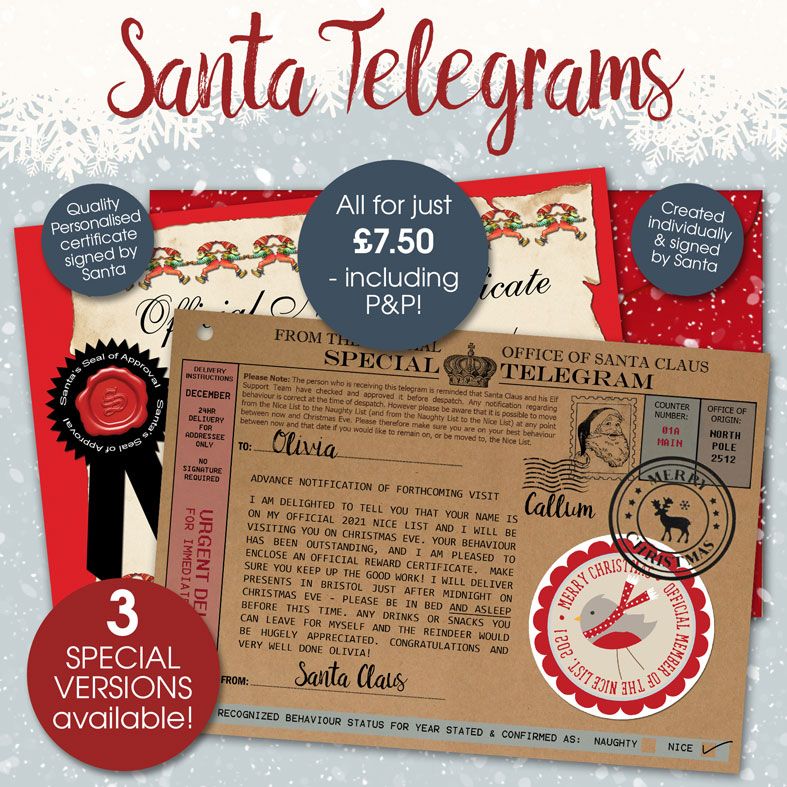 Quality Santa Telegrams: £7.50
These fabulous high quality Santa Telegrams are created individually and hand signed in ink by the real Father Christmas himself! Each one comes with a lovely personalised certificate too. There are 3 types of Telegram to choose from, with special editions for those on the Nice List, babies celebrating their first Christmas, and even those on the Naughty List! Delivered in a big red, hand written envelope, they are fantastic value. (UK and overseas orders welcome)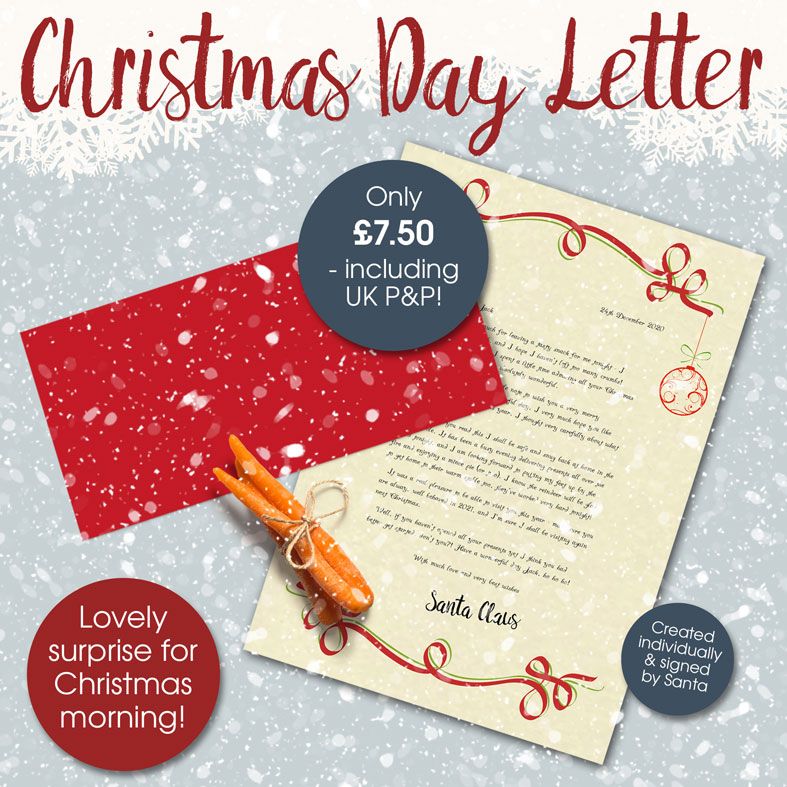 Santa Christmas Day Letters: £7.50
Imagine how excited your little boy or girl would be on Christmas morning when they wake up to discover a special letter left for them by Father Christmas! Just like the Santa Letter Gift Packs, these gorgeous quality personalised letters are hand signed individually by Santa, and come in a jolly red envelope complete with a North Pole sticker and a touch of glitter dust. A magical start to Christmas morning that will delight children! (UK and overseas orders welcome)
Every year the sales of PhotoFairytales Santa Letters and Telegrams help to raise money for a UK charity. This year I'm proud to be supporting the charity Be Kind Movement, and I'll be making a 50p donation to them for every Letter and Telegram you buy.
With more children than ever experiencing high levels of anxiety, Be Kind Movement delivers school workshops to promote kindness values. Their aim is to entertain, educate and empower children and young people with emotional intelligence skills for life.
A message from the charity...
"Be Kind Movement supports the development of emotional intelligence skills (EQ) in children and young people (CYP) aged 5-14 years through our Kindness in School Programme™ (KISP) which started in 2020. We tackle the growing mental health crisis in CYP in the U.K by amplifying the transformative power of kindness through the medium of film and education. KISP™, an early intervention and preventative tool, uses 10 values of kindness to build EQ skills such as self-awareness, self-management, social awareness, relationship skills and responsible decision-making skills. Through the delivery of experiential and fun learning experiences involving specially designed short films & creative activities, we emphasise the value of kindness and equip CYP with the tools needed to deal with challenges in the playground and build wellbeing and EQ skills that will hold them in good stead as young adults. Our video, 'Making Kindness the Norm' explains what we do."
Price: from £7.50 including 1st Class UK delivery (overseas orders are also welcome)
Turnaround: Created and dispatched within 3 working days (working days are Mon-Fri, excluding bank holidays).
Perfect Gift for: Baby, Child, Him, Her, Friend, Husband, Wife
UK orders - December 12th
Overseas orders -
Ireland, USA & Canada - 5th Dec
HM Forces (BFPO) - 21st Nov
Rest of the World - 30th Nov
UK postage is free, via standard 1st class post. If you're ordering more than one letter or telegram for delivery to the same address, they will be placed in a plain covering envelope to prevent them being separated in the post and ensure they arrive together. Overseas orders are welcome (except the Santa Letter Gift Packs which are UK delivery only).