Personalised Santa Telegrams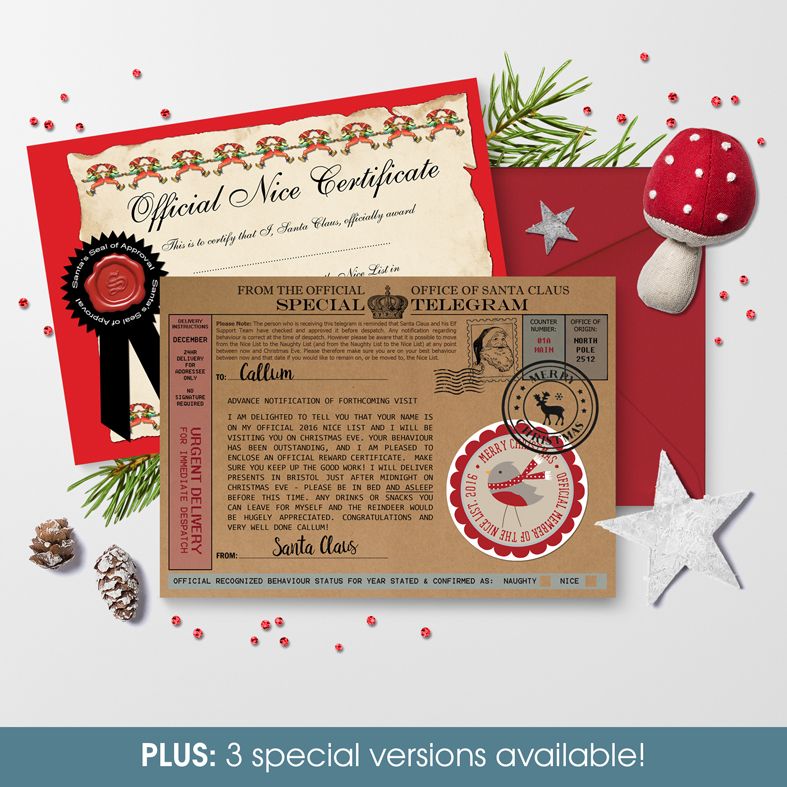 A little extra magic delivered through your door by Santa this Christmas! Just imagine their face when they open one of these truly special high quality Santa Telegrams, personalised and created just for them...
These fabulous personalised Santa Telegrams are created individually to order, and each and every one is signed by Santa himself!
Fantastic value, they will definitely add excitement to the festive season - and there are different versions to choose from too (so everyone can share in the fun, no matter what their age!).
Personalised and hand signed by Santa himself

High quality telegrams, hand stamped and finished

Three versions to choose from
Only £6.50, including FREE UK delivery

Overseas orders also welcome
Every telegram sold raises money for a UK charity
SORRY, ORDERS FOR 2018 NOW CLOSED!
(But they'll be back in 2019: sign up to the mailing list to keep up to date with all new product launches and special offers!)
Just look at what's included in your telegram...
An attractive telegram printed on quality kraft-style card - individually prepared to order, stamped and personalised, and hand signed in ink by Santa himself

A fabulous quality certificate awarded for excellent behaviour, personalised and hand signed by Santa*

The telegram is delivered by the postman in a big jolly red envelope, complete with a pinch of genuine sparkles from Santa's Workshop. The envelope address is handwritten by Santa, complete with a North Pole Sticker!

Finally each envelope is also stamped with the 'Elf Quality Check' stamp of approval - so you know it has been passed and approved!

If you've ordered a Santa Letter or Telegram from PhotoFairytales in the past please be assured that it is the real and genuine Santa who signs every telegram too, and all signatures will be the same as previous years!
* Please note that if the recipient is on the Naughty List they won't be receiving a certificate with their telegram - but they will be receiving something else... see below for details!
Last order dates, and prices including delivery:
These are the last order dates for dispatch in time for Christmas Eve. Orders can be placed until midnight on the days shown:
UK orders - December 16th 2018: £6.50

International orders - December 6th 2018: £8.50
(excluding USA, Canada, Greece, Turkey, Australia, New Zealand, Caribbean, Central & South America, Cyprus, Malta, Asia, Far East, Eastern Europe, Africa & Middle East which will be classed as 'Rest of the World' below.)

Rest of the World orders - November 29th 2018: £9.00


Every year the sales of PhotoFairytales Santa Letters and Telegrams help to raise money for a UK charity.
This year I'm proud to be supporting Mind by making a 50p donation for every Letter and Telegram sold.
Mind
provides advice and support to empower anyone experiencing a mental health problem. Every year, one in four of us will experience a mental health problem. But hundreds of thousands of people are still struggling. Mind campaigns to improve services, raise awareness and promote understanding. Mind won't give up until everyone experiencing a mental health problem gets support and respect.
Click here to visit the Mind website for further information about the charity.
There are 3 telegrams to choose from, as follows:
Standard Nice List Telegram - suitable for all well behaved children (and adults) who can confidently expect a visit from Santa this year

Baby's First Christmas Telegram - an extra special version designed for babies who will be celebrating their very first Christmas: a lovely keepsake for their memory box!

Naughty List Telegram - choose this option if you believe the person (probably an adult, they're usually the naughty ones) has been a bit badly behaved this year and might be on the Naughty List! Don't worry, the telegram isn't rude or mean, and Santa will give them some friendly tips on how to move back onto the Nice List in time for Christmas Day. They won't receive a certificate with their telegram, but they will receive a special tag to display on their Christmas tree to persuade Santa that they have promised to mend their ways.

When you place your order, simply select your preferred version using the form below.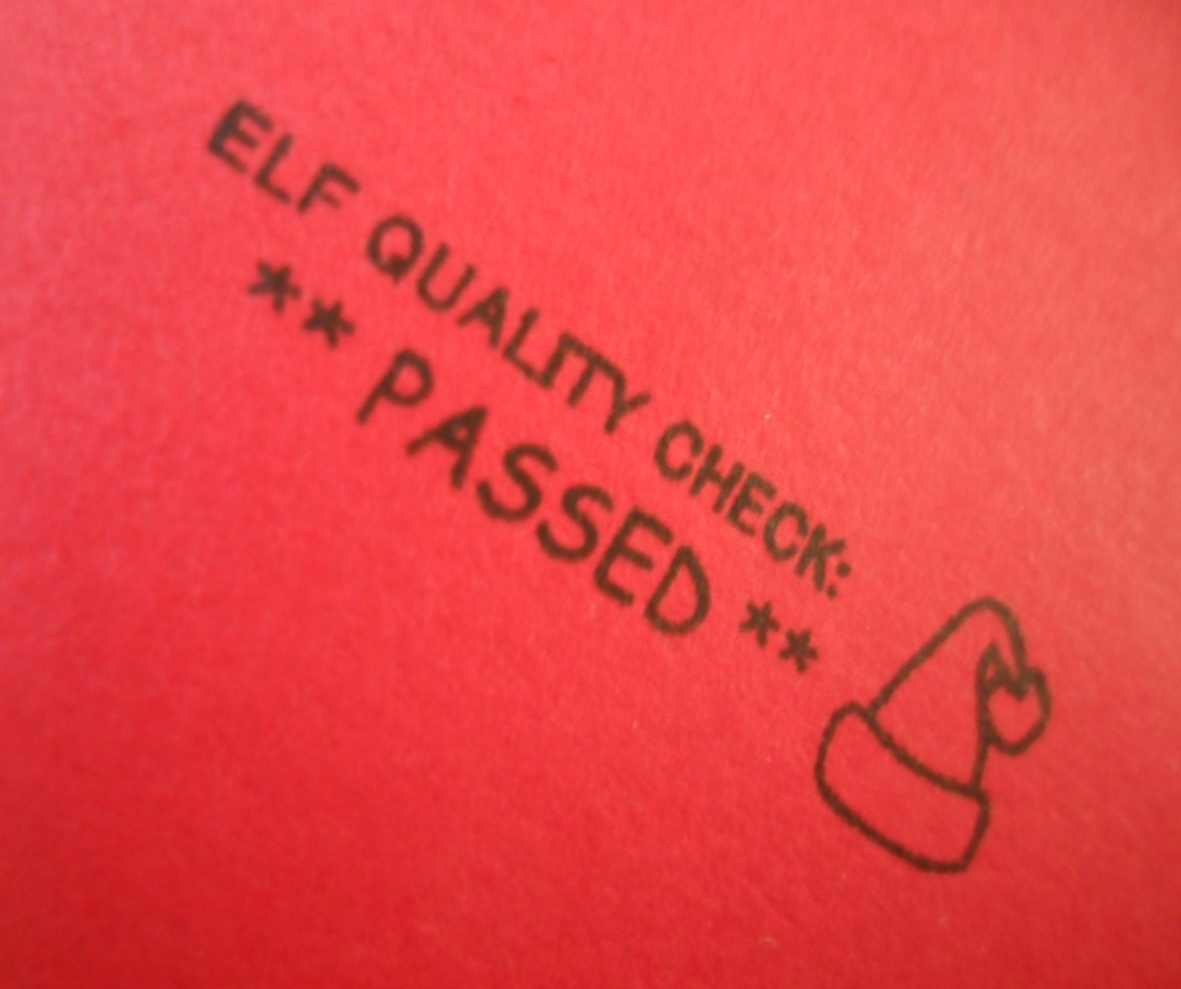 Important bit, please read first!:
Unless otherwise informed, discount codes cannot be applied to these telegrams as they are already such great value - instead I am making a donation to Mind for every telegram sold. Please do not enter a discount code on the order form as this will result in a delay with your order.

Please see information below regarding dispatch times and delivery.
You can keep in touch with all the latest Santa Letter news by following the dedicated page on Facebook - just click here

Delivery: Telegrams will be addressed directly to the recipient. All telegrams will start to be mailed out from the first week of December and not before (with the exception of overseas orders which will be dispatched earlier in time for pre-Christmas Day delivery). If you are placing your order from the first week of December onwards, your telegram will be prepared and sent out within 2-3 working days. The telegrams will be sent via standard 1st class post, please allow approximately 3 working days for delivery. (Royal Mail aim to deliver 1st class post on the next working day, however due to the time of year please allow a little longer for the letter to reach its destination.) Overseas orders will be sent via International Standard delivery and will take approximately 3-7 working days for delivery ('Rest of World' orders will take approximately 5-10 working days).
Ordering more than one Telegram? If you order more than one telegram for delivery to the same address they will be placed together in one plain covering envelope addressed c/o the person named on the order (sent to the delivery address you specify) to ensure they are delivered by Royal Mail together on the same day. If you order more than one telegram for delivery to different addresses please be aware that, although they will be sent within the same batch if they have been ordered together on the same day, there is a chance that they will be delivered on separate days.
Ready to Order? Simply complete the form below...
Please use this form to place your order. After clicking the submit button you will be directed to the payment page. If you wish to order more than one telegram, you will need to fill out the form for each recipient - simply click on the "Continue Shopping" button when you reach the shopping cart to return to this page and complete the form again. No responsibility will be accepted, or refunds made, in the event that the information you have given was incorrect so please double check all the details you supply and your spelling!
** IMPORTANT **: After clicking the "submit" button at the end of the form you will be directed to the payment page. Please ensure you follow the instructions and make your payment, otherwise your order will not be fully submitted and cannot be processed!
SORRY, ORDERS FOR 2018 NOW CLOSED!
(But they'll be back in 2019: sign up to the mailing list to keep up to date with all new product launches and special offers!)