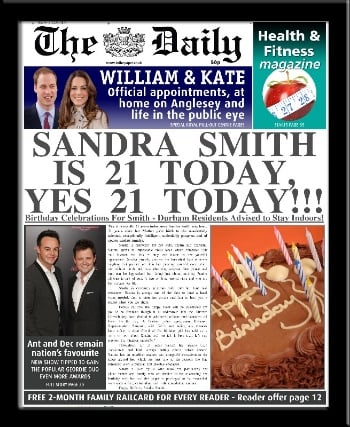 A birthday gift they'll always remember - this fun personalised birthday newspaper will certainly raise a smile, perfect for him or her!
Example Text:
"Yes, it is exactly [AGE] years today since [FORENAME] [SURNAME] was born. [AGE] years since [his] Mother gave birth to the wonderfully talented, exceptionally intelligent, undeniably gorgeous and of course modest [FORENAME].
Just about everyone who knows [FORENAME] is astounded by how good [he] looks for [his] [AGE] and many people who know [him] have been mistaken in thinking [he] was at least five years younger than [he] is.
[FORENAME] is renowned for [his] style, charm and charisma. [FORENAME] sports an impeccable dress sense which combines flair and fashion but this is only one factor in [his] youthful appearance. [FORENAME] proudly ensures [his] burnished hair is never anything but perfect, yet it is [his] piercing youthful eyes which are without doubt [his] most charming weapon. One glance and you can be hypnotised into doing just about anything [FORENAME] chooses to ask of you. A two or three second stare and you are [his] servant for life.
[FORENAME]'s generosity is also well known, both with [his] time and resources. [FORENAME] is always one of the first to lend a hand when needed, first to offer [his] advice and first to lend you a tenner when you are short.
Details on how the happy event will be celebrated are yet to be finalised though it is understood that the [LOCATION] Constabulary have drafted in additional officers and cancelled all leave for the day. A [LOCATION] police spokesman, Detective Superintendent Simpson, said "We're not taking any chances here today; a close friend of the birthday [boy] has told us a story or two about [FORENAME] and we felt it best to.... let's say monitor the situation carefully."
Throughout [his] [AGE] years [FORENAME] has always been considerate and kind, always putting others before [himself]. [FORENAME] has an unselfish manner and thoughtful consideration for those around [him] which are just two of the reasons [he] has remained such a popular and likeable character.
[FORENAME] is loved by all who know [him], particularly [his] close friends and family who are thrilled to be celebrating [his] birthday with [him] and this paper is privileged to be associated with such a fine, outstanding and truly remarkable [man]. Happy Birthday [FORENAME] [SURNAME]!"
Supplying a photo: You don't have to send a photo for the article, but you are very welcome to supply one if you wish. After placing your order you will receive an acknowledgement email - simply reply to this email and attach your photo.