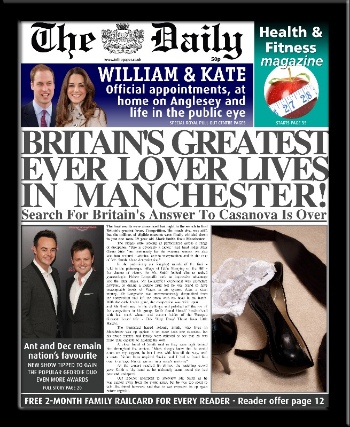 This personalised Greatest Lover newspaper is a fun gift idea for him or her - a birthday or Valentine's Day gift they'll definitely remember!
Example Text:
"The final results were announced last night in the search to find Britain's greatest lover. Competition, like much else, was stiff, but the millions of eligible entrants were finally whittled down to just one man, [AGE] year old [FORENAME] [SURNAME] from [LOCATION].
The judges were looking at performance across a range of disciplines. Size is obviously a factor, said head judge Miss Gloria Stitz but, fortunately for the eventual winner, we also take into account - stamina, artistic interpretation and in the case of Mr. [SURNAME], sheer determination.
In the preliminary (or foreplay) rounds of the final - held in the picturesque village of Little Humping on the Hill - the chance of victory for Mr. [SURNAME] looked slim as retired gynaecologist Hubert Longstaffe took an impressive advantage into the later stages. Mr Longstaffe's excitement was premature however, as during a routine drug test he was found to have unacceptable levels of Viagra in his system. After a short inquiry, Mr Longstaffe was unceremoniously disqualified from the competition and left the arena with his head in his hands.
With the early leader gone, the competition was wide open and Mr [SURNAME] rose to the challenge and polished off the rest of the competitors in his group. [SURNAME] found himself head-to-head with last year's winner and current holder of the 'Europe's Greatest Lover' title - Dirk King Dong Thrust from Little Hardon.
The burnished haired Adonis, [SURNAME], who lives in [LOCATION] was up against it on more than one occasion, but his proud friends and family were relieved to see that he was more than capable of holding his own.
A close friend of [SURNAME] told us they were right behind him throughout the contest.[FORENAME] always knew that he could count on my support, in fact I was with him all the way, until a nasty friction burn required Savlon and I had to hand him over to a large blonde woman in a nurse's uniform.
As the contest reached its climax, the watching crowd gave [SURNAME] a big hand as he ultimately came round the bed post and collapsed.
Our reporter attempted to interview Mr. [SURNAME] as he was carried away from the event arena, but he was too spent to talk. His friend however, said that he was expected be up again before nightfall."
Supplying a photo: You don't have to send a photo for the article, but you are very welcome to supply one if you wish. After placing your order you will receive an acknowledgement email - simply reply to this email and attach your photo.