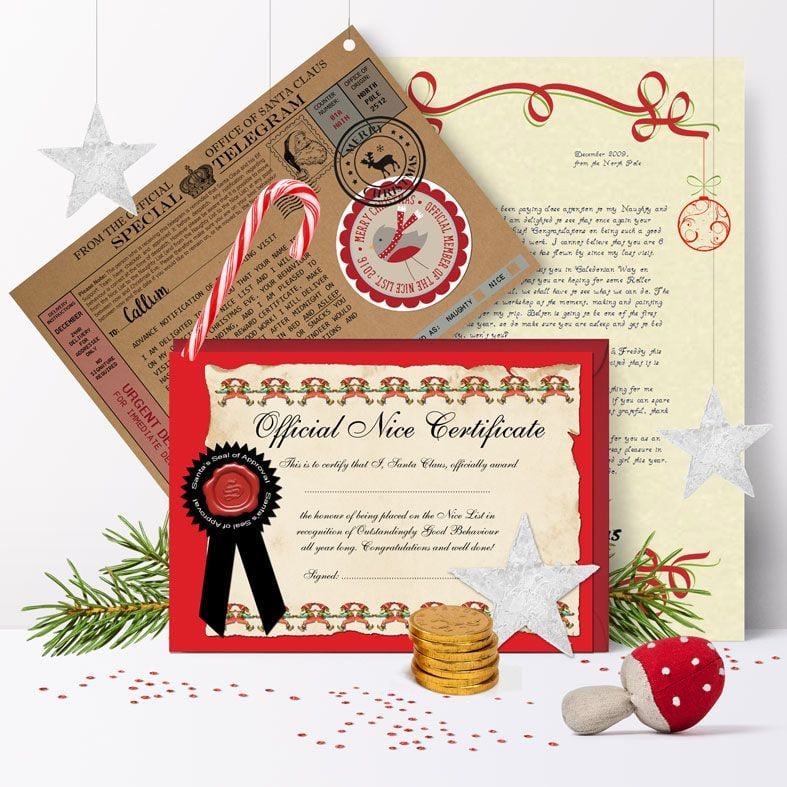 What a fabulous Christmas surprise - imagine their delight and astonishment when they receive their very own official letter from Santa this December! These wonderful quality Santa Letter Gift Packs are amazing value, and definitely add to the excitement in the lead up to Christmas. Only a very limited number are available each year, and they always sell out - so book yours now to avoid disappointment.
Have a little bit of extra magic and excitement delivered to someone special this Christmas...
LIMITED NUMBER AVAILABLE
Genuine: each one individually created and hand signed by the real Santa
Includes a personalised certificate. a chocolate coin and 3 extra gifts too
Only £8.25, including FREE UK delivery
Every letter sold raises funds for a UK charity
Perfect for boys and girls - and adults!
"She was absolutely delighted with it and couldn't believe how Santa knew so much information about her!!! I think it is the best Santa letter I have ever seen so a huge thank you for such a wonderful service. Its fantastic value for money and I will definitely be ordering again next year."
(Click here to read more customer feedback)
Father Christmas takes his special Letters very seriously - he only sends a very few of them every year, so every child that receives one is truly special.
Three small, but very important, reassurances for you:
1: If you're ordering more than one letter for siblings, each letter will be slightly different.
2: If you ordered a letter last year the one you receive this year will be different (Santa doesn't like to repeat himself)!
3: Yes, it is the real Father Christmas! If you've ordered a Santa Letter or Telegram from PhotoFairytales in the past be assured it is the real Santa writing and signing every one, and all signatures will be the same as previous years!
Just look what's included!
A beautiful letter on quality parchment style paper - packed with detail, individually prepared and hand signed by Santa himself
A fabulous quality certificate awarded for excellent behaviour, featuring your child's name and hand signed by the real Santa
A chocolate coin (may contain traces of nuts), and 3 fun mystery gifts to keep your youngster busy
Beautifully finished - the letter has a pinch of genuine sparkles from Santa's Workshop and is delivered by the postman in a big jolly red envelope complete with a North Pole Sticker! Santa handwrites every envelope too, and each one is stamped by the elves with their 'Elf Quality Check' stamp of approval - so you know it has been passed and approved!
Posted with great care...
Ordering more than one Letter? If you order more than one Letter for delivery to the same address they will be placed together in one plain covering envelope addressed c/o the person who placed the order (but sent to the delivery address you specify) to ensure they are delivered by Royal Mail together on the same day.
(If you order more than one Letter for delivery to different addresses please be aware that, although they will be sent within the same batch if they have been ordered together on the same day, there is a chance that they will be delivered on separate days.)
Supporting UK Charities every year - I'm donating 50p for every 2021 Telegram sold to Adoption UK.
Important bit, please read first!:
Discount codes: Discount codes cannot be applied to these Letters as they are already such great value - instead I am making a donation to Adoption UK for every Santa telegram and Letter sold. Please do not enter a discount code on the order form as this will cause a delay with your order.
Delivery: Last orders December 14th (or sooner if they sell out). Letters will be addressed directly to the recipient. All Letters will start to be mailed out from the first week of December. Orders placed during December will be prepared and posted within 3 working days. The Letters will be sent via standard 1st class post. Sorry, UK orders only. You can keep in touch with all the latest Santa Letter & Telegram news by following the dedicated page on Facebook - just click here
About the gifts: The gifts included with the letter may contain small parts and are suitable for children aged 3 and above. The chocolate coin may contain traces of nuts - if you would prefer not to have it included just pop a note in the 'special instructions' space on the payment screen.
Placing your order: Please double check all the details you supply on the form before submitting it, as it may not be possible to rectify mistakes once your order has been placed! If you wish to order more than one Letter, you will need to fill out the form for each recipient - simply click on the "Continue Shopping" button when you reach the shopping cart to return to this page and complete the form again.
** IMPORTANT **: After clicking the "submit" button at the end of the form you will be directed through the payment stages. Please ensure you follow the instructions and make your payment, otherwise your order will not be submitted!
Price: £8.25 including UK delivery
Turnaround: Created and dispatched within 3 working days (working days are Mon-Fri, excluding bank holidays).
Perfect Gift for: Baby or Child
December 14th
(UK orders only)
UK postage is free, sent via standard 1st class post. If you're ordering more than one Letter for delivery to the same address, they will be placed in a plain covering envelope to prevent them being separated in the post and ensure they arrive together.